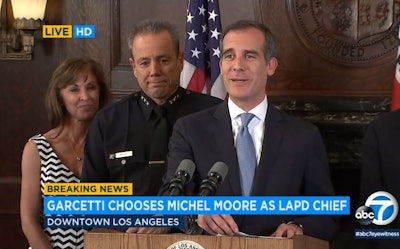 VIDEO: New LAPD Chief is 36-year Veteran Michel Moore
Mayor Eric Garcetti announced Monday afternoon that he has named Assistant Chief Michel Moore to be the next Los Angeles police chief, replacing retiring Chief Charlie Beck.
Moore has been with LAPD since 1981. His selection must be confirmed by the Los Angeles City Council, reports KABC.
At an afternoon news conference announcing his decision, Garcetti described Moore as "one of if not the most qualified law enforcement professional in America. Acknowledged by everyone for his exceptional intelligence. Known as always being one of the hardest working guys in any room."
Moore said, "It's pretty simple. I wish to continue the momentum and building trust, particularly in communities of color. And improving public safety while we build a more diverse and representative department."
Moore, 57, who runs the department's patrol operations, was one of three finalists chosen by the civilian Police Commission from a field of 31 applicants for chief of one of the nation's largest police departments, reports the Los Angeles Times.