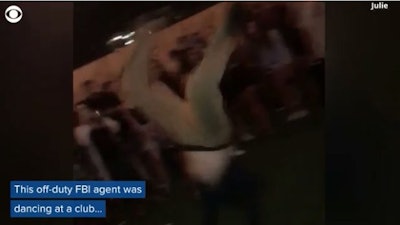 Video: FBI Agent Charged Over Accidental Discharge on Dance Floor
An FBI agent involved in an off-duty accidental discharge of his firearm on June 3 has been charged Tuesday with one count of second-degree assault, according to CBS News.
Chase Bishop, who is based in the Washington Field Office, can be seen in a cell phone video doing a backflip, losing his sidearm in the process, and then accidentally discharging it as he picks it back up.
The shot struck another patron of the Mile High Spirits bar.
Bishop turned himself in to the Denver Sheriff Department on Tuesday morning after a warrant was issued for his arrest, according to Denver police.
Denver PD were awaiting the results of alcohol and drug tests before making an arrest, but because those results could take as much as another week to be returned, and because the district attorney's office believes there is already sufficient evidence presented to proceed.