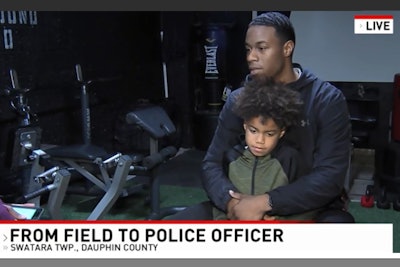 A standout football player for the Bishop McDevitt High School in Harrisburg, PA—who was thought to be a sure-fire NFL prospect—decided that he had a higher calling and entered the police academy instead of continuing his path toward football.
According to CBS News, Tyrai Anderson was on a path that would almost surely land him in the National Football League, but his heart is really in working with kids and young adults in guiding them toward their greatest potential.
So he decided to trade in his cleats for police boots and entered the academy and is due to graduate soon and hit the streets as a sworn officer in the city where he grew up and made something of a name for himself on the high school gridiron.
"The city of Harrisburg just means a lot to me, I feel like it shaped and made me who I am," Anderson said during an interview with the news station as he held his young son in his arms.
He said also that his experience in football—especially camaraderie and teamwork—will serve him well as a new member of the Harrisburg Police Department.