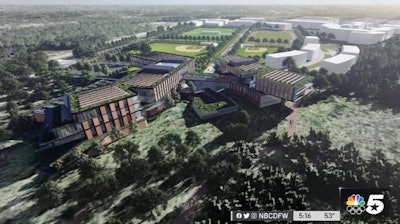 A team of architects and planners have been volunteering their time to design a new Dallas Police Academy at the University of North Texas at Dallas.
They shared their latest renderings with the Dallas City Council Public Safety Committee Monday.
The new training facility would be adjacent to a nature area, athletic fields and could have access to dormitories for recruits. Planners say it would be state of the art.
Council Members were pleased with the University partnership that is envisioned but disappointed the project will take years, NBC DFW reports.
"I love the academic focus this will bring to the police academy. I will say I'm a little bit concerned about how long this effort is going to take," Council Member Cara Mendelsohn said.
The Dallas City Council recently extended the lease for another five years on the existing police academy.
Mendelsohn said she was very disappointed when she first visited the current facility.
"The place is terrible. It is run down. It is small. It smelled bad. There is mold growing in the ladies' locker room. The exercise facility is tiny. It's just not suited to be a police academy," she said.