Action Target Inc.
AutoTargets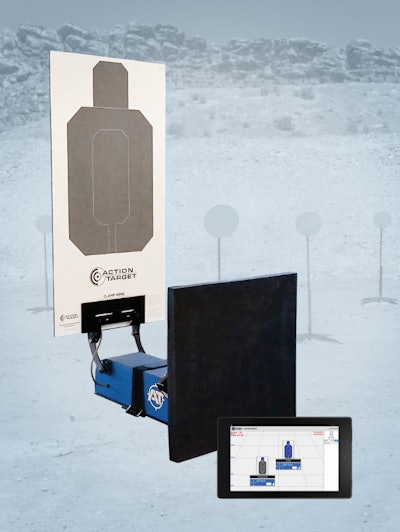 Action Target's AutoTargets is a distinctive portable target system designed for every range. This affordable reactive target allows trainers to set the number and location of hits to fall and reports shot data and scoring through an app-based platform, free on Android and iOS. The system is made to be easy to setup, lightweight, and keep shooters up range and training, rather than taping and adjusting targets. This versatile training tool can be used from CQB to long range, indoor and outdoor, and senses hits from any caliber.
https://www.actiontarget.com/products/autotargets/
Elite Target Systems
TAC II Portable Turning Target System
The TAC II from Elite Target Systems is a wireless, microprocessor controlled, compact, portable, and battery operated training/practice target system. It displays a pair of targets once or twice per execution with user-defined or random intervals for delayed start, first and second target display periods, and pause between displays. The 1,000-foot remote control range is ideal for sniper exercises, and any number of TAC II's can be synchronized for group activities. Routines are quick and easy to define, and up to 15 routines can be saved. The TAC II weighs 26 pounds, is stable in winds up to 30 mph, operates for days on a single charge, and collapses to 5x9x60 inches.
Meggitt Training Systems
Live-Fire Screen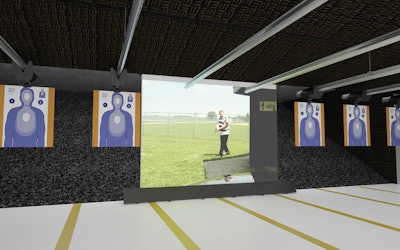 Meggitt's Live-Fire Screen allows users to train within a shooting range using live ammunition while scenarios are displayed on a natural rubber screen through the FATS 100LE system. Screen integrity does not affect hit detection capability, because Meggitt's screen surface is not needed for detection of projectiles passing through the area of interest and is used only for showing the image. It can be readily integrated into live-fire shoot houses with other surfaces for projection. The easy-to-install, self-healing screen can be used with various types of weapons ranging from revolvers to submachine guns, and is designed to withstand up to 50,000 rounds over the entire surface area before replacement or repair.
https://meggitttrainingsystems.com/live-fire-training/live-fire-screen/
Qualification Targets Inc.
B-21E and B-27E Variety Packs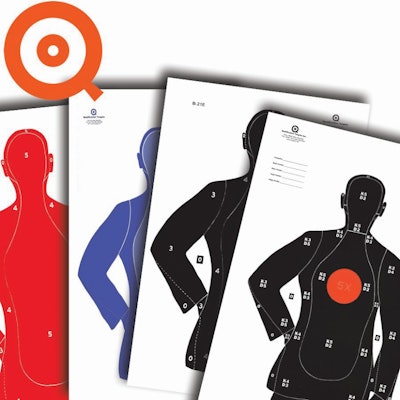 Qualification Targets Inc. is debuting new target variety packs for 2018. The B-21E Pack consists of a sampling of the company's standard B-21Silhouette Targets. The pack contains 25 of each target: B-21E BLACK, B-21E RED, B-21E-3T, B-21E-PH, B-21XR BLACK, and the B-21R-G for a total of 150 targets. The B-27E Pack consists of a sampling of Qualification Targets' standard B-27 Economy Silhouette Targets. The pack contains 25 of each target: B-27E Black, B-27E Blue, B-27E Green, B-27E White, B-27 PRO-G, and the B-27 Q Gray for a total of 150 targets.
Range Systems
Guardian Compact Clearing Trap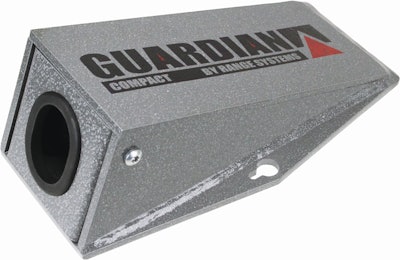 The Guardian Compact Clearing Trap by Range Systems is designed to provide law enforcement personnel a safe method to check their firearm or confiscated weapons before handling and transporting. Its small size and light weight allow it to be mounted in a patrol vehicle, installed on a desk, or even hung on a wall. Inside the AR500 steel case is a Dura-Bloc ballistic rubber interior to encapsulate any bullet fragments.
https://www.range-systems.com/product/guardian-compact-clearing-trap/
Ruwac USA
Range Vac 220 Industrial Vacuum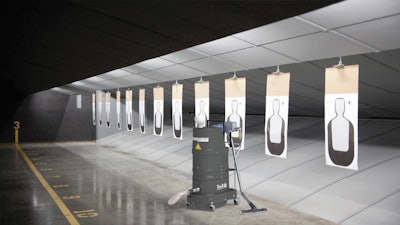 Ruwac USA's Range Vac Series is designed to safely remove hazardous lead dust from firing ranges. Manufactured under strict quality control here in the United States, these range vacuums are ideal for either indoor or outdoor use. For general lead dust removal, Ruwac's Range Vac 220 offers an industrial vacuum solution that is fully grounded and non-sparking by impact. This system is equipped with Ruwac's MicroClean filtration and HEPA Maxx filter, efficient at 99.997% at 0.3 micron, for air purification. Its portable design features a 9-gallon foot-actuated dustpan for quick, clean dust removal, while a direct bagger option features dust-free collection in a bagged container. A full accessories package helps you access hard-to-reach places throughout your range.
http://www.ruwac.com/applications/firing-range-dust/
Savage Range Systems
Total Range Solutions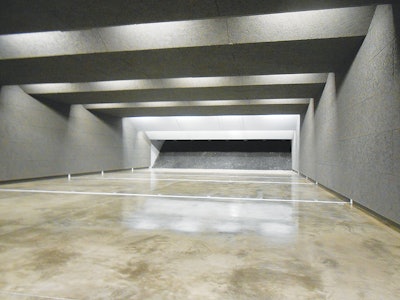 Savage Range Systems offers total range solutions for the finest, safest, and cleanest, lowest-maintenance shooting ranges, bullet traps, and 360-degree shoot houses. Bullet traps utilizing Snail technology combined with low-angle ramps and 360-degree deceleration chambers are made to safely capture bullets while virtually eliminating splatter, ricochet, and airborne lead. Specializing in custom systems, Savage provides range solutions to military, law enforcement, commercial and private ranges, and firearms and ammunition manufacturers.
Troy Acoustics Corp.
Shooting Range Acoustics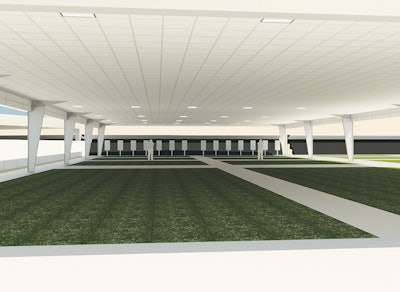 Troy Acoustics Corporation is a one-stop indoor and outdoor shooting range acoustics provider. The patented Troy System reduces the over-blast pressure or reverb time in the range and performs much better in the lower octaves, which is critical when firing weapons. If you are experiencing headaches and tension from the noise generated in your range, consider the benefits of a high-performance acoustic system. Additional products include customized canopies, acoustic outdoor stalls, and acoustic roofs.