The first use-of-force training simulators were pretty much electronic versions of the old Hogan's Alley concept. Officers had to determine whether to shoot or not shoot.
Today's use-of-force simulators are much more than shoot, don't shoot tools. They are extremely sophisticated training tools with scenarios that can branch in dozens of different directions based on the student's actions and the instructor's interpretation of the student's performance. The training value of these simulators has made them invaluable tools in contemporary law enforcement training.
Much of the training, however, doesn't take full advantage of the capabilities of the simulator when it is used in the context of a larger training environment or program. Here's a look at what can be done when simulator training is taken to the next level.
The Training Soundstage
Brian Dorow, dean of the criminal justice program at Wisconsin's Waukesha County Technical College (WCTC), says the idea for the school's new Interactive Training Center came out of a conversation with a military trainer. Both Dorow and the other trainer were unhappy with the quality of the simulator-based scenario training experiences they were offering their students. They wanted a more immersive concept that would require trainees to not just react to the video on the simulator but work the scenario in the context of a larger environment where they are required to do what they need to do in real life from the beginning of the situation to the end.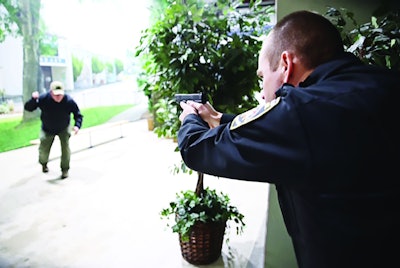 But Dorow didn't know how he could build the impression of that larger environment in a warehouse. So the 10-year veteran of law enforcement decided to look to the techniques used in motion picture production for an answer.
Dorow traveled to Hollywood to see how movies are made and brought that knowledge back to WCTC. He also enlisted the help of entertainment industry professionals to help him achieve his goal. Now, thanks to the labors of WCTC carpentry students and the professional sound editors and scenery artists who donated their efforts, Dorow is operating the equivalent of a law enforcement training soundstage.
The WCTC's Interactive Training Center uses a combination of physical structures, backdrop paintings ("mattes"), foliage, lighting, props, and sound to create an immersive training experience where students work force-on-force and simulator scenarios. Some of the environments that can be simulated in the facility include a residential street, inside a residence, a business district, and the interior of a business. And it's not just visually immersive. "A sound producer came here from Burbank and helped us set up a sound system that we can use to replicate 20 different sounds simultaneously," Dorow says. Some of the sounds available in the training library include barking dogs, gunshots, and helicopters overhead.
Dorow stresses that one of his goals with the facility was to make sure the training environment was constantly changing. "Nothing is permanent in here," Dorow says. "In my day they would take us into the same environment every time to do simulator training, so you learned how to cheat."
One of the ways Dorow and his staff keep the training environment constantly changing is that they have built rolling carts for the center's three MILO Range (milotraining.com) simulator systems so they can be easily moved into different positions to create new environments. Dorow says he chose the MILO systems for the center because of his positive experiences with the quality of the systems, the wide variety of available scenarios, and the company's customer service.
"Waukesha County Technical College has been a long-time MILO Range customer, and when Brian called us and said that he wanted to take the law enforcement training program there to another level and build a world-class training facility, we were very interested in his vision," says Robert McCue, general manager of MILO Range Training Systems.
MILO was so interested in helping Dorow achieve his vision that McCue personally flew to Wisconsin during the early planning phases to meet with him and his staff and tour the facility. "Once we had a firm idea of what they wanted and the training outcomes they were after, we proposed and designed a unique scenario-based virtual training system suite for them," McCue says. "This included a MILO linked two-screen virtual shoot-house product designed for multiple scenario-based escalation and de-escalation training, and a MILO Range live-fire system where they could train on interactive use-of-force scenarios with a laser training pistol and in live-fire mode. There is no other training facility in the state of Wisconsin or the Midwest that has anything like it. It's truly a unique and innovative law enforcement training center at WCTC."
The WCTC Interactive Training Center has been in operation since last fall, and it's getting rave reviews from officers who have experienced it. They have praised it for its realism and called the training environment "eye opening." One aspect of the center's training that has been especially praised by the students is its ability to recreate low-light conditions in a city environment. "A lot of our officers never see daylight on duty," Dorow says.
The WCTC Interactive Training Center is essentially using Hollywood magic to create sets and situations, but it has a much greater mission than entertainment. "Our goal here is to help our students—whether in-service or academy—to build a training file of experience they can refer back to," Dorow says. "Under stressful situations you are always going to revert back to your training."
Active Shooter Response
Jefferson County, CO, has a dark history of school shootings. There have been three in the county now officially known as Jeffco, dating back to 1999 and the Columbine High School massacre. So imagine yourself as head of security and emergency management for Jeffco Public Schools. That's John McDonald's job. And he spends a lot of time thinking about how to prevent school shootings and help law enforcement improve the response to school shootings.
McDonald says one constant of his job is that local, state, and even federal law enforcement is constantly contacting him asking for permission to train at one of the district's schools. He has always been very open to helping those officers and agents, believing that it was critical that his security teams and law enforcement were on the same page. But he didn't always have a school available for training.
So three years ago, he decided to "steal" a school. He called his boss and asked to requisition an empty school for full-time active shooter training. He expected to be told the idea was crazy and forget about it. Instead, he was given permission to run tests at Martensen Elementary School, which shut down in 2011. That was 2015.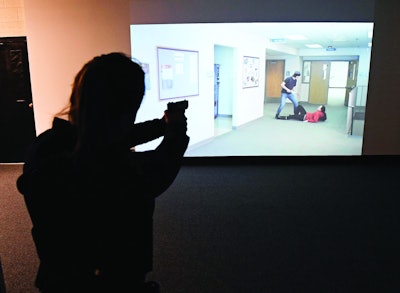 Today the Frank DeAngelis Center for Community Safety, named for the principal of Columbine High School at the time of the attack, is fully operational and fully funded by the school district, Colorado POST, and community donations. And it's about as busy as a law enforcement training center can be. After opening last April, the DeAngelis Center was booked 172 days for training. McDonald says he expects to book 280 days of training this year. Agencies that have trained at DeAngelis include 34 local law enforcement agencies, FBI, ATF, DEA, and others.
McDonald says the training is about more than just school shooter response. The 34,000 square feet of the building has been converted into training areas where public safety personnel can train to respond to malls, churches, apartments, and theaters. McDonald is even working with local theaters in hopes of bringing in an old screen and discarded seating to better recreate the movie theater experience. Aurora, home of the nation's worst theater shooting, is not far from the DeAngelis Center.
At the DeAngelis Center, law enforcement officers can work team or individual active shooter response situations in force-on-force or simulator-based scenarios. The simulator was donated by Jeffco-based Ti Training (titraining.com). McDonald says Jeffco Public Schools has worked with Ti Training on a number of school shooting scenarios, so when he was developing the DeAngelis Center he decided to contact the Golden, CO-based company. "I only asked them for the loan of a system. They surprised us with the gift. They said, 'We believe in the mission of this place.'"
McDonald has big plans for the future of the DeAngelis Center. He wants to acquire Ti's "virtual reality shoothouse" for the gym. "With that system, you can place different screens down different hallways, and you can configure into multiple layouts so officers never see the same layout twice," he says. Beyond that, he's bringing guest speakers to the facility, including Lt. Bryan Murphy, retired from the Oak Creek (WI) Police Department. Murphy was the first officer on the scene of the 2012 Sikh Temple Shooting, and he was shot 15 times trying to stop the killer.
He also hopes to expand the Center and take advantage of the 47 acres of grounds. He's working with a fundraiser to raise money from local and national businesses for that effort. Expansion of the DeAngelis Center is critical, according to McDonald. "We're running out of room because everyone is using it," he says.
Human Factors Training
One of the most unusual simulator training programs in the country is in the headquarters of Haley Strategic Train in Scottsdale, AZ. There you will find two Virtra (virtra.com) simulator systems and a staff of highly skilled shooters teaching officers and others how to perform at the highest levels with a firearm. That training is called D7, and it's based on studies of human performance, physiology, neurology, and psychology, and the staff's years of tactical experience with firearms.
Haley, whose resumé includes combat tours with Marine Force Reconnaissance, experience as a private military contractor, founder of Magpul, and sworn law enforcement officer, believes that accurate shooting is about much more than grip, stance, and trigger press. Haley Strategic is his think tank for studying his and other researchers' theories on the subject and also his private training company. D7 is his merger of both the research and the training, and he says it was long in development before he partnered with Virtra to produce D7 powered by Virtra.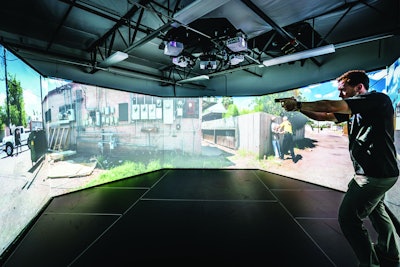 The relationship between Haley and Virtra is a true partnership. He didn't just buy the machines and have them installed in his facility. He and his staff have actually helped the company fine-tune the systems to meet their demanding needs. Haley says at first the system "couldn't keep up with our speed."
It can now. And Haley says he and his trainers can even use the Virtra simulators for ocular science and neuromuscular drills, which is why he made the systems integral to his D7 program. Students in the D7 program work out on a simulated range where the Haley team uses a Virtra VST. For judgment and scenario work they step into a Virtra 300 (300 degrees) wraparound system.
Haley says the simulator gives him and his staff the ability to do things they can't do on a live fire range. He says students in his live fire classes shoot a maximum of about 500 rounds per day. In the two days of D7, they shoot 3,000 times and are not as tired even though the training guns have simulated recoil. He adds that the sim range is a really good place to work with inexperienced shooters or shooters who have problems. Still, he requires students to follow the same safety rules they would on a live fire range.
The D7 program has been offered for about two months. Haley says he and his staff have run 15 classes and about half of the students have been law enforcement.
Haley Strategic Train's motto is "Thinkers before shooters," and the D7 program powered by Virtra is all about achieving that goal, says Jason Mulcahy, Virtra's general manager. "The most powerful weapon an individual that's going into a deadly force encounter has is their mind."