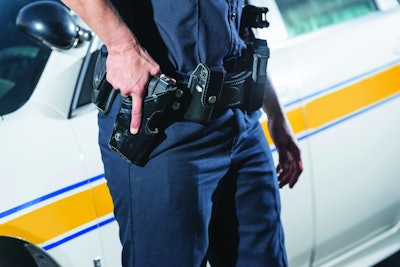 The tactical concept known as Contact and Cover did not start with me. But I co-wrote the first book on the subject in 1992, with San Diego Police Detective Lieutenant John Morrison, a few years after my article of the same name first ran in the April 1989 issue of POLICE. Nearly 30 years is a long run for anything, police tactics especially, but maybe it's time to call the idea done. If not dead, then at least "modified to death" by academies and trainers who have reinvented it as something else. More on that in a moment.
Lt. John Morrison, Sgt. Chuck Peck, and other post-Vietnam combat era and post-race riot 1970s cops at the San Diego Police Department were the founders, trainers, and explainers of Contact and Cover. I happened to come along in 1984, when we had just lost two SDPD officers in one shooting incident that September, and then again, when one was killed and one wounded in May 1985.
Morrison wrote and narrated the SDPD video re-enactment of the first shooting, which happened in a place called Grape Street Park. In the early 1990s, that video soon became a common training tape for local, state, and federal agencies across the country to show and train with. I watched it recently and smiled to see Shelley Zimmerman, who just retired as the chief of police in San Diego after a stellar 35-year career, playing the girlfriend of one of the shooting suspects in the video.
As a brief review, the Contact and Cover concept is simple to understand and easy to train. In any field or correctional situation with one or more uncontrolled subjects nearby, one officer/deputy/trooper/ranger acts as the Contact Officer, handling all the business of the contact. This includes talking to subjects, patting them down, writing anything, and directing the subject's movements. It includes searching the subject's car or belongings, and talking on the radio. It includes handcuffing, searching, and moving the subject.
The function of the Cover Officer is to provide cover and a force presence that sends a message to the subject or any other people nearby that he or she is there to watch over and protect the Contact Officer at all times, including intervening with deadly force if necessary. The Cover Officer should position himself or herself in such a way to see or hear what is happening with the encounter, but not too close to be seen as butting in or trying to overly intimidate the subject.
The Cover Officer does not step into the conversation, search other companion subjects who are with the first subject, talk on the radio, fill out citation forms, or search the subject's car. The Cover Officer can provide information the Contact Officer may have missed.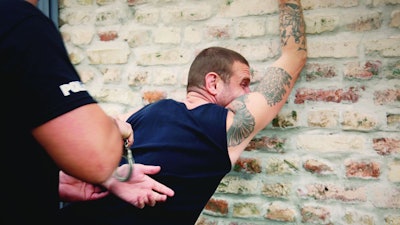 The Contact or Cover Officers can switch roles if applicable, in situations where one officer speaks the subject's language, has previous experience with the subject, or has other training or knowledge which would make him or her the best choice as Contact Officer. The Cover Officer covers while the Contact Officer contacts. Or so we thought, when we wrote the book that described the approach 25 years ago.
So what happened? Why does Contact and Cover seem to have faded into obscurity? Since I travel the country teaching active shooter workshops, I talk to a lot of cops. When I mention Contact and Cover, I hear a variety of statements about it:
"What's that?" (Really? Never heard of it? As Trump would say, sad.)
"The recession hit our staffing hard. We just don't have manpower to do that anymore. We barely have enough cops in the field every shift." (Doesn't that mean your remaining officers really need to watch out for each other?)
"We were taught that in the Academy, but I don't think we do it anymore." (How could the concept have de-evolved out of use at your agency?)
"I tried talking about it once with our neighboring agencies and they didn't know what it was." (Didn't you all attend a regional academy together? Was it not taught there?)
"We took it out of the Academy curriculum because we have so many other newer topics to cover, like diversity, crisis communications, and dealing with mental illness with our homeless." (So officer safety takes a backseat? Isn't patrol the backbone of every agency?)
"We do a 'modified version' of Contact and Cover." (Which is coded language for: "We speed it up, separate the officers, and try to do more work by taking our eyes off each other.")
Although our "Contact and Cover" book went out of print a few years back, you can still find copies selling for as much as $500 on websites. I have a few copies on my shelf for the sake of nostalgia. I taught my half-day Contact and Cover training class for decades across the country, until demand trickled down to nothing. I kept the domain name but closed the website for lack of interest. I still get a few emails each month from patrol officers or training offices, thanking me for helping them understand the concept. For that, I'm grateful.
When I first moved to Colorado Springs in 2016, I sent a letter to all 200-plus law enforcement agencies in the state, explaining the Contact and Cover concept, describing my book and training class, and asking for a response. Total number of responses to date: zero. After three Colorado sheriff's deputies were killed in the line of duty in the first two months of 2018, I contacted the Colorado Association of Chiefs of Police and offered any of my six police tactical books to any chief who wanted a copy—for free. Total number of responses to date: zero.
Please don't misinterpret my message as an old-guy rant about wanting to go back to the good old days or lamenting why people won't buy our book. John Morrison and I just wanted all cops to have a long and safe career. We believed in Contact and Cover way back when and we believe in it now.
As Bruce Springsteen put it in his 1982 song "Atlantic City," "Everything dies, baby, that's a fact. But maybe everything that dies someday comes back." Here's to hoping that Contact and Cover is still in full use in your agency.
Steve Albrecht worked for the San Diego Police Department for 15 years. His books include "Albrecht on Guns," "Patrol Cop," "Streetwork," "Contact and Cover," and "Tactical Perfection for Street Cops." He can be reached at drsteve@drstevealbrecht.com or on Twitter @DrSteveAlbrecht.