In all my travels as a Marine and a police trainer, I have entered some of the most dangerous places in the world and have often thought about the "what if" scenario. What if I was taken as a hostage? What would I do? As police officers (and especially if you work corrections) in the United States or Canada, you also have to ask this question: What would you do if you were taken hostage?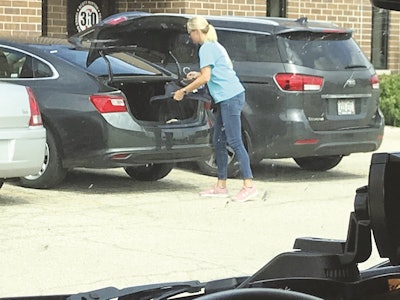 After talking with many different federal, local, and state agencies, I have come to realize that only a select few law enforcement officers receive hostage survival training. Being a Marine, I have worked as a role player several times in training exercises and have seen many of the best crack under the smallest amount of pressure.
I want to discuss a few things that I found are very important if you are ever taken hostage. In this situation you face not only the physical hardships and danger but also mental distress and emotional trauma.
Moves and Countermoves
First, I'll talk about what goes on behind the scenes before the actual capture. Now do not get me wrong, officers have been taken hostage by street criminals who had no plan. But if the kidnapping is planned, it typically happens in phases. Let's look at each and how you can counter it.
Enemy Phase One: Intelligence Gathering
1.) They need to know what you look like. So they will collect current photos of you that show your height, weight, complexion, color of hair and eyes, and the typical clothing you wear on and off work. If they dive deep into who you are, they will also collect similar photos of your family and co-workers. They will also want photos of your vehicles, home, and places you frequent. So think about what you are putting out on social media.
2.) Your schedule before work, during work, and after work is another key piece of intel for anyone seeking to take you. They want to know your routine. They will especially want to discover things you might do that you don't want anyone else knowing such as a romantic relationship outside your marriage.
3.) They may look into your personal finances, spending habits, things you hold important, and items of interest. Again, don't give it to them on social media.
Counter Moves
1.) Stay aware of your own surroundings.
2.) Notice cars that might follow you or if you see them more than twice a day at the same or different locations. During your routine stops, look around you to see if there are any people paying more attention to you than what they should be doing.
3.) Break up your routines of travel to and from work and try not to be too predictable. Changing your route every two to three days can cause a break in their plan.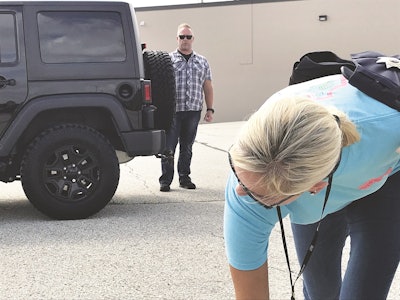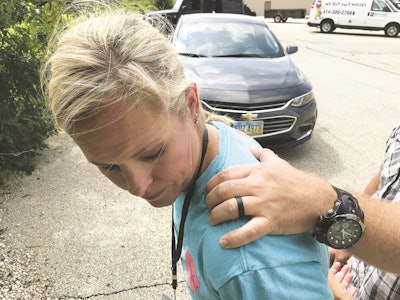 Enemy Phase Two: Locating
1.) Your routines are confirmed, and you are tailed and shadowed, and your timeline and routine is checked and double-checked.
2.) They select possible capture points.
Counter Moves
1.) Learn how to break up your day. This affects the timeline they are trying to put together on you.
2.) Before getting in your car, take a minute to walk around it. This gives you a different point of view of your surroundings.
3.) Walk with confidence. Occasionally drop your keys, look at your phone like you're trying to get a signal, or do something else no one would notice as a ploy and scan for threat. You can stop and look in windows to check reflections.
4.) Be more aware at intersections when driving and when parked on the road side.
Stay in touch with your dispatch and others.
Enemy Phase THREE: Preparation
1.) Once they decide to capture you, they will run rehearsals and practice, taking into consideration your own ability to fight back. One of the things they are searching for is trouble spots that might hinder the capture and their getaway after taking you.
2.) They also establish where they are going to take you in this phase. If transferred, you will move two to three times until you reach your final destination.
3.) The capture date and time is set.
Counter Moves
1.) Continue to change your daily routines (this includes your family as well).
2.) Get to know your patrol area, construction sites, train stations, airports, traffic spots like detours and heavy traffic areas. Consider where you would grab someone and be especially vigilant in these areas.
3.) Learn how to be more time conscious.
4.) Take the advice of my friend and mentor Coach Bob Lindsay and be a "when then" thinker, not an "if then" thinker.
5.) Stay aware of your surroundings.
The Capture
It is common for abductors to move a person around to foil any immediate rescue attempts. You will probably experience several stops and transfers to different vehicles.
Once captured by kidnappers who have planned to abduct you, you will be immediately "bagged and tagged." This means your head will be covered—your ears may be plugged—and your hands will be bound. During transportation to the transfer point or final delivery, your captors will probably remain silent.
You've been captured; now you need to take steps to survive. This is when you need to listen to your gut instinct.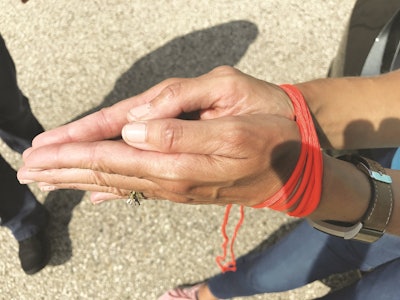 If you can fight, kill, or mark your captors, do it. If you do not have the opportunity to do this, then cooperate for now, until it is time to take action.
While you cooperate and feign submission, listen to the bad guys talk and try to learn about them. How many different voices do you hear? Try to identify who is doing the most talking in the group. Do they have accents, dialects, speech impediments? Do they slur or stutter? Do they repeat words and phrases? Can you determine their sex by tone of voice? Are they using any names?
You can also learn a lot about your captors by the sounds they make moving around. Do you hear footsteps? Do they have injuries or physical impairments that make them limp, shuffle, and/or drag their feet? Can you tell whether they are wearing soft or hard shoes? Do they follow the same patterns of movement?
Another way you can learn about your captors is when they touch you or get close to you. When you are grabbed and moved, do they have missing limbs or fingers? Are you grabbed soft or hard? Is the person strong? Can you determine the person's dominant hand? Do you feel jewelry? Do you smell body odor, bad breath, cologne? Do they breathe in a noticeable way?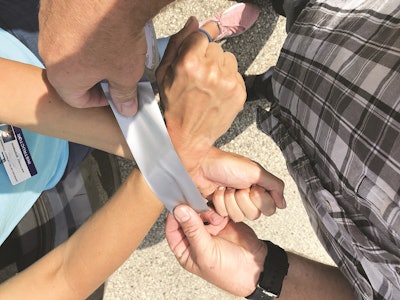 Even with your vision blocked by a bag or blindfold, you can tell a lot about your surroundings. How many people are around you? Are there crowds outside? Do you hear machines? Do you hear cars, trains, planes, buses, or boats? Do you hear any nature sounds? Do you smell anything?
A Physical Ordeal
What you will experience as a hostage will depend on who has taken you and why. You may be physically abused. Even if you are not abused, certain aspects of being a prisoner may take a physical toll on you. The first piece of advice I have is control your breathing, no matter what happens.
If you are hit, always lean in the direction of the strike and exhale if being kicked, punched, or beaten. After one hit, try to limit the beating by going motionless, if possible. They want to punish you, not kill you (at first anyway).
Being bound and sitting in one position for a long time can cause physical problems. Try to open and close your hands to keep your circulation flowing. When sitting with your feet bound, try to alternate your legs from straight to bent every once in a while and wiggle your toes.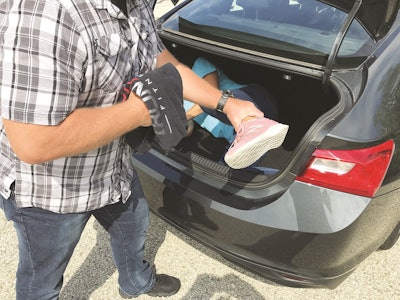 Having a hostage also puts some demands on the captors. If they want to keep the victim alive, they have to provide food and water. If they don't want the person to wet or mess themselves, they have to provide for elimination of bodily waste. You can use this to your advantage. By asking to use the bathroom, you may get a feel for where you are. By asking for water, you may be able to identify the leader because the others will look to this person for their orders.
One of your goals is to survive long enough for your fellow officers to find you and attempt a rescue. But if a rescue attempt takes place, you don't want to get shot or killed in the process. Get down on the floor or ground and sit as close to the wall or a cover position as possible. The only time you should get up and move is if you are in a position to use the rescue attempt as a distraction to escape.
I know this is a lot to remember. But my goal is to get you thinking about it. Run the possible scenarios through your mind and visualize what you would do to gain a positive outcome. Remember, the number one goal is survival: emotional, mental, and physical.
Dave Young is the co-founder of Vistelar and director of ARMA Training, which offers training to law enforcement, corrections, security, and military personnel worldwide. He is a long-standing member of the POLICE Magazine Advisory Board. Young has developed a detailed course on surviving hostage situations for law enforcement and corrections professionals.