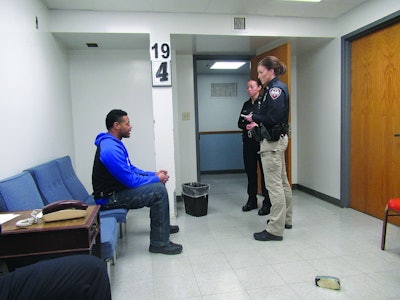 Responding to a domestic disturbance is one of the most common and most dangerous calls that you will be dispatched to. Anecdotally, you know that.
But let's put the danger in perspective with data. Last year more officers were fatally shot responding to domestic violence incidents than any other type of incident, according to the National Law Enforcement Officers Memorial Fund. From 1988 to 2016, 136 officers were killed responding to domestic disturbances such as family arguments, FBI data from Law Enforcement Officers Killed and Assaulted (LEOKA) shows.
According to the Department of Justice, about one in five murder victims are killed by an intimate partner, while FBI Uniform Crime Reports show that almost one-third of women murdered are murdered by an intimate partner.
A domestic disturbance call can involve anything from a verbal dispute to a homicide. Maintaining officer safety is of the utmost importance. Since this is such a common call, officers may, at times, let their guard down. So we all need reminders of the danger of domestic disputes and ensure officers are taking all precautions.
Upon Dispatch
During dispatch to a domestic disturbance, you need to ask the dispatcher for more details such as information about prior contacts with the caller, offender, and/or residence. Try to determine whether the offender is still at the residence. If the offender has left the residence, try to obtain a description of the offender and the direction of his or her travel. The dispatcher should have asked about weapons in the residence and passed this information on to you. However, if he or she didn't tell you about weapons, then you need to ask for that information. The dispatcher should also be able to tell you if it sounded, when speaking with the caller, like a struggle was in progress as well as whether there are any outstanding warrants or orders of protection.
Today's 911 call center personnel are well trained; however, there may be instances when the officer must request certain information from the dispatcher. Other officers with knowledge about previous contact may relay information to the officers or officer en route. Having as much knowledge as possible, while en route, is extremely important for your safety.
Arriving at Scene
Although it is not always possible, two officers should respond to all domestics. Three officers would be even better. Having three officers on the scene helps you maintain the principle of mass, the concept that there should be two officers per arrestee. This principle not only helps if the arrestee resists, but also means that arrestees are less likely to resist if they know they are outnumbered. If an arrest is made and three officers are on scene, two of the officers can control and handcuff the arrestee, while the third officer stays with the victim, keeping the situation safer. While it may seem strange to the layperson, officers know that victims of domestic violence often jump in and attempt to prevent the arrest of the persons who battered or assaulted them.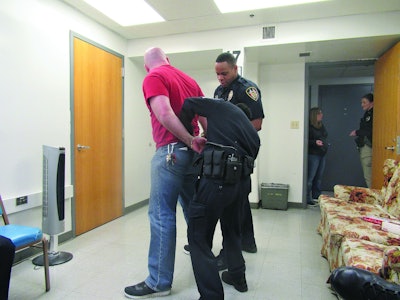 Upon arrival, stop, look, and listen. Don't rush into the situation unless absolutely necessary. You should gain as much knowledge as possible before making contact.
Pay attention to the environment as you approach the residence. Here are some things you need to note. Are there any dogs? If there are dogs, are they big enough to be a threat? Where are the doors? Can you see in a window? What do you hear coming from the residence?
By listening as you approach the residence, you may learn valuable information about the dispute, which can become evidence in your report. You may also realize that there are exigent circumstances, in which case you may decide to gain entry immediately. However, if there are no exigent circumstances, stand to the side of the door, knock loudly, and ask permission to enter.
It is always more professional to, when possible, introduce yourself and your department and to request to come inside (instead of demanding). Also, provide context by explaining why you are there. Sometimes you will get compliance by explaining that you are just there to make sure everyone is OK and that you cannot leave until you have done so. For example, you might say, "Good evening, ma'am. I'm Officer Schlosser with the Rantoul Police Department. I am just here to make sure everyone is all right. I cannot leave until I am sure. May I step inside and chat with you? The sooner I can come in and chat with you, the sooner I will leave."
Inside the Residence
Once inside, be observant of your surroundings. Observe persons inside, look for weapons, and watch for pets.
The first action to take is to separate the involved parties. If possible, do this so that the parties are not facing each other. At the same time, it is important that officers can see each other to ensure their safety. Ask the parties if there are any other people, any weapons, or any pets in the residence.
Don't be afraid to conduct a "Terry patdown." However, be sure you have reasonable suspicion that the subject may have a weapon. Reasonable suspicion can be gained by obtaining information from dispatch and from those present at the residence as well as assessing the behavior of the subject. By asking the right questions, you will be more likely to ascertain whether reasonable suspicion exists to conduct a patdown.
Once the parties have been separated and the scene appears safe, you and the other officer or officers should then interview the parties involved to determine what occurred before your arrival. Do so from a safe distance, with your hands above your waist and weapon side back.
You can then determine if there is probable cause to make an arrest. When arresting a suspect, as mentioned above, it is safer if a third officer is on the scene.
It is important to know the requirements of your department and state in regards to explaining victim rights and providing assistance as well as all the laws related to domestic violence in your state. Examples of offenses that may have occurred at a domestic include domestic battery, aggravated domestic battery, violation of an order of protection, unlawful restraint, and child abuse and neglect.
Dr. Michael Schlosser, Ph.D., is the director of the University of Illinois Police Training Institute, and the Institute's lead control and arrest tactics instructor. He retired from the Rantoul (IL) Police Department as a lieutenant.