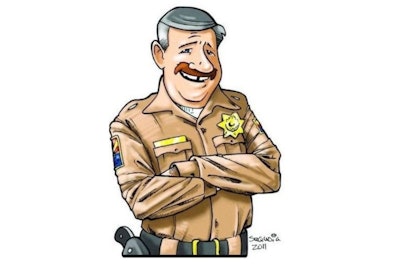 One of the things that has always fascinated me is flying. Very early on I started reading books about the aces of World War I and World War II, and taking my dad's flying magazines to read at school. Each magazine described things like the new Cessna or Beechcraft or Mooney aircraft, or the latest electronic gizmo that made flying easier and safer. Included in each and every magazine was a section on accidents; terrible, terrible accidents and, needless to say to a young man of 12 or 13, this was the very first thing I read unless they had an article on the planes or pilots of the Vietnam War.
When I turned 14 my dad asked me if I was ready to work to earn flight lessons. Was I ever! And so, my adventures of working for Wright Flyte Service at Pulliam Field in Flagstaff began. In 1966 there were still a plethora of WW II pilots teaching flying around the country and Tex Wright had himself an original P-38 Pacific Theater fighter pilot named Artie Shaw. He treated me as if I was learning to fly a fighter (which was my dream) and had me doing maneuvers and drills to prepare. It was these drills and his constant emphasis on preparation that carried into my law enforcement career. The P-38 twin-engine fighter was a powerhouse and unforgiving if a pilot made a mistake in an emergency. Artie would tell me about a situation that had killed one of friends, like failing to keep a wing up on the side of a failed engine and flying into the ground. Personalizing a tragedy makes the learning powerful and I still remember thinking if I ever flew a P-38 I would keep that wing up when an engine failed.
As a cop you probably won't have to worry about the engine failing in your P-38 Lightning, but your next traffic stop or domestic or disturbance call may be a similar type of crisis in your life, leaving you making split-second, life-and-death decisions. Just like a pilot, what you do in those precious seconds will likely include your vehicle, weapons, equipment, or backup, and when bad things happen for real is not the time to learn what to do.
Back in my student pilot days, Artie would suddenly reach down and pull my throttle, turn to me and say, "You just lost your engine…go!" Steps for restarting are on a checklist, but that old fighter pilot believed you'd better make a habit out of dealing with an emergency. I would have to say out loud the steps I was doing, while all the time looking for an emergency landing site. The trees of Flagstaff are not as dense as Washington or Oregon, but when you are forced to line up for an emergency landing in a Cessna 150 they look like a damn rainforest. Artie would often require me to actually be certain I had the altitude and distance just right before he would push my throttle back on.
Finally, one of Artie's favorite drills was just sitting on the ground in a tied down Cessna and having me point to things in the cockpit with my eyes closed. The Blindfold Cockpit Test was used by the military to make a pilot comfortable with the instruments and controls of the aircraft. Each aircraft has a unique layout and in an emergency a pilot needs to be certain where each control is located. Aviation has decades of study and research trying to eliminate human error and proper emergency response; I wish law enforcement was as diligent.
Law enforcement trainers talk about being able to get your equipment without looking but we don't test for it … but you can constantly, test yourself. Close your eyes, grab your flashlight, baton, shotgun, carbine, magazines, TASER, siren, magazines, OC spray, and whatever else you can think of. Have someone test you, challenge you, time you. Mentally rehearse a critical incident when you are driving. For example, what would you do if ambushed right now? Your last call, what would you have done if the complainant had assaulted you?
Flying and crime fighting share a lot of things, including risk, adventure, and the need to be totally familiar with your equipment. New aircraft require the pilot to familiarize themselves with that model to the level of a habit. So, too, in law enforcement, equipment and emergency procedures have to be practiced to the level of a habit. Sitting around complaining about a lack of training, or equipment, or personnel, only weakens your effectiveness as an officer responding to a crisis. Training, rehearsal, awareness, confidence, and competence are required in this day and age of more and more social unrest and threat. Be ready when that engine goes out.
Dave Smith is an internationally recognized law enforcement trainer and is the creator of "JD Buck Savage." You can follow Buck on Twitter at @thebucksavage.