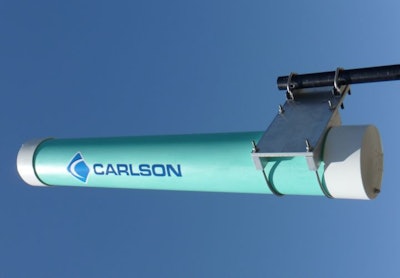 Carlson has introduced a high-gain omnidirectional base-station antenna that's specifically designed to meet the demands of TV white space (TVWS)—the areas of unused spectrum in the TV bands located between 470 MHz and 698 MHz in the UHF range.
TVWS technology is unique in that radios must interact dynamically with spectrum databases to determine available channels to use. "This innovative antenna design fully harnesses the potential of the UHF band, leveraging the nuances of the signal to provide unmatched performance," said Kelly Cronin, Carlson's TVWS product manager.
Carlson's antenna provides strong, consistent gain across the entire UHF band and is not limited to specific channels or geographic areas. Users can expect optimal performance regardless of their location or channel, according to the company.
"Somebody using channel 14 will see the same throughput as someone using channel 51, with virtually no difference in quality of signal," said Rick Gustafson, Carlson's antenna and enclosure production engineer.
The flexibility the new antenna provides is key when it comes to utilizing TVWS technology. This consistency is particularly important among critical communications users such as public safety, government and utilities, not to mention the hundreds of wireless Internet service providers (WISPs) who deliver broadband to millions of customers.
Carlson is early to develop equipment to leverage the newly available TVWS spectrum. The company created the omni antenna in order to optimize the performance of its RuralConnect TV band.
"We tried several different concepts, and this one allowed us to get an additional gain over a dipole without compromising bandwidth or coverage," noted Jim Carlson, CEO and chief engineer. "Consistent performance across the band is a critical factor with frequency-agile radios, and the new design provides omnidirectional performance with 6 dBi gain across the TVWS spectrum."
The new omni is built to last and withstand extreme weather conditions, Gustafson noted. The antenna is constructed of stainless steel and aluminum alloy and enclosed in strong PVC. The four-foot-by-six-inch cylindrical enclosure design provides for minimal wind loading and ice formation, easy shipping and handling and an aesthetically-pleasing appearance.