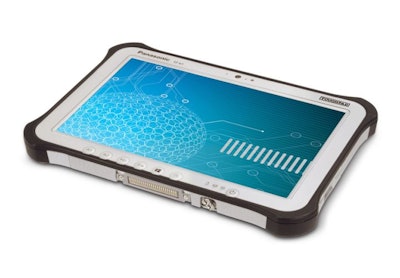 Panasonic has expanded its Toughpad line of enterprise-grade tablets with the introduction of the Toughpad FZ-G1, a 10-inch tablet featuring Windows 8 Pro, and the availability of the Toughpad JT-B1, a 7-inch Android-powered unit. Both devices follow the original 10-inch Android-powered Toughpad FZ-A1, which became broadly available late last year.
Toughpad tablets are MIL-STD-810G tested for drops, fluid ingress and temperature, to assure they deliver reliable performance under circumstances that render typical tablets non-operational. Devices feature daylight viewable screens, user-replaceable or serviceable batteries, a stylus for signature capture and handwriting (on the FZ-G1 and FZ-A1 with third-party apps), and multiple options for peripheral connectivity.
Enterprise-class mobile computing requires an enhanced level of device security and the Toughpad family is designed with this in mind. Security features like encryption, IPsec VPN, trusted boot, root protection and FIPS compliance are available in various configurations of the Toughpad FZ-A1 and Toughpad JT-B1. Panasonic also provides mobile device management (MDM) compatibility.
Toughpad tablets are supported by an ecosystem that includes an enterprise-focused app store, developer tools and deployment support. Panasonic will offer a full set of professional-grade accessories to support the Toughpad line, including cases, mounts, printers, keyboards, magnetic stripe readers, smart card readers and multi-unit storage and charging solutions.
The 10-inch Windows 8 Pro-based Toughpad FZ-G1 will be available in March starting at $2,899. The 7-inch Android-powered Toughpad JT-B1 will ship in February starting at $1,199. The 10-inch Android-powered Toughpad FZ-A1 is now shipping, starting at $1,299.
Powered by Android 4.0 (Ice Cream Sandwich), the 10-inch Toughpad FZ-A1 is now certified on the Verizon Wireless 4G/LTE network. Toughpad tablets arrive with a three-year warranty.
Panasonic Toughpad FZ-G1: Key Features
• Operating System: Windows 8 Pro
• Processor: 3rd Generation Intel Core i5-3437U vPro 1.9GHz up to 2.9GHz with Intel Turbo Boost Technology
• Memory: 128-256GB SSD, 4-8GB RAM, optional micro SDXC
• Rugged: MIL-STD-810G, 4-foot drop, IP65, 14° to 122°F (operational temp range)
• Display: 10.1 inches, sunlight viewable, touch screen and active digitizer, 800nit, WUXGA (1920x1200)
• Battery: Eight hours (user-replaceable)
• Dimensions: 10.6-by-7.4-by-0.75 inches
• Weight: 2.43lbs
• Wireless: Bluetooth V4.0, 802.11 a/b/g/n Wi-Fi, optional embedded 4G LTE or 3G
• I/O: Full size USB 3.0, HDMI, optional micro SDXC, Full size USB 2.0, wired LAN, true serial port or dedicated GPS.
Panasonic Toughpad JT-B1: Key Features
• Operating System: Android 4.0
• Processor: TI OMAP4460 1.5GHz Dual core
• Memory: 16GB ROM, 1GB RAM, micro SDHC
• Rugged: MIL-STD-810G, 5-foot drop, IP65, 14° to 122°F (operational temp range)
• Display: 7 inches, daylight viewable, 500nit, WSVGA (1024-by-600)
• Camera: Front: 1.3Mp fixed focus, Rear: 13.0Mp auto focus w/ LED light
• Battery: 8.0 hours - Large 5,720mAh battery (user-replaceable)
• Dimensions: 8.7-by-5.1-by-0.7 inches
• Weight: 1.2 pounds
• Wireless: Bluetooth V4.0, 802.11 a/b/g/n Wi-Fi, optional embedded 4G LTE+3G
• I/O: Micro USB