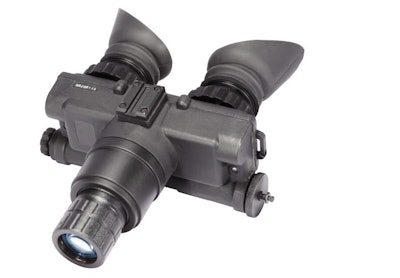 American Technologies Network Corp. has introduced the NVG-7 series of night-vision goggles that users can operate as a hand-held, head-mounted or helmet-mounted night vision device.
The binocular-style, single-tube goggle is built around a high-grade 18mm Gen 2+ or Gen 3 image intensifier tube. The NVG-7 incorporates a built-in infrared light source for close-up illumination in low-light environments. Other features include auto brightness, bright-source shut-off, and an adjustable between-the-pupils eyepieces. The NVG-7 series is water and fog resistant and the all-glass optics are multi-coated to provide brilliant clarity with no distortion, according to ATN.
The ATN NVG-7 goggles arrive in 1X. ATN offers optional 3X, 5X, and 8X lenses. The NVG-7 arrives with a flip-up head mount assembly, brow pads, eye cups, daylight filter, soft carrying case, lens tissue, and one three-volt lithium CR123A battery. The NVG-7 series is available as Gen 2+ or CGT, HPT, Gen 3, Gen 3A, Gen 3P and WPT models. The ATN NVG-7 Gen 2+ retails for $1,749.