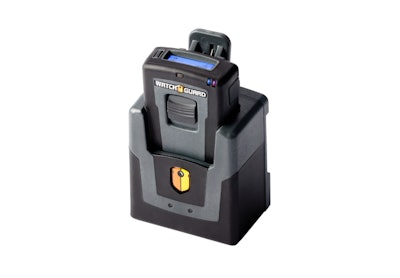 The U.S. Patent and Trademark Office recently notified WatchGuard Video that they have issued the company a patent on the "Intelligent Standby" technology pioneered in WatchGuard Video's High Fidelity Wireless Microphone system. WatchGuard's "Intelligent Standby" technology is a sophisticated approach to power management that extends the standby battery life of the HiFi wireless microphone up to 25 days from a single charge, compared to 12 hours with most conventional systems, according to the company. This is the second patent WatchGuard Video has been awarded on its HiFi microphone system.
This patent, titled "Method and System of Extending Battery Life of a Wireless Microphone Unit" (U.S. Patent #8,712,362 B2), outlines a system that applies two separate compression methods to achieve very high audio quality, while using extremely low power consumption, and simultaneously keeping the wireless unit in sync with the base receiver over long periods of inactivity.
"WatchGuard's HiFi Microphone is unlike any competing system," explained Robert Vanman, CEO and Founder of WatchGuard Video. "It is based around a different radio technology and provides dramatically superior audio quality, up to 10 times longer range, and battery life measured in days instead of hours. This microphone system is just one of the reasons why over 85% of competitive in-car video evaluations result in an award to WatchGuard Video."
WatchGuard Video is the world's largest manufacturer of law enforcement video systems, supplying in-car and wearable video solutions to nearly 1/3rd of all Law Enforcement agencies in the U.S. and Canada. WatchGuard conducts all engineering and manufacturing from the company's 65,000 square foot high-tech facility located in Allen, Texas.