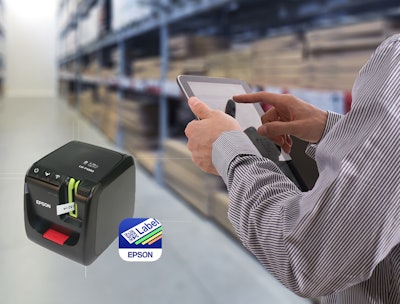 K-Sun, a provider of industrial identification and labeling solutions, has introduced a new multi-application printer from Epson Labelworks PX — the LW-PX800.
With both Wi-Fi and networking capabilities, one centrally-placed LW-PX800 can replace multiple workstation label printers, substantially reducing equipment investment costs, according to the company. Multiple users can easily connect and print to the same printer from their desktops, smartphones, and tablets.
The thermal transfer printer is Energy-Star Certified and comes with Label Editor Professional for PC, Label Editor Lite for Mac, and Epson iLabel and Datacom apps for mobile devices.
The LW-PX800 features fast speeds, a compact design, special features like half-cut for eask removal, and the exclusive PeelGuard trimmer to ensure long-lasting labels. It also uses PX Tape, which is available in 163 different types, sizes, and colors up to 1.5" wide including magnetic tape, glow-in-the-dark tape, ANSI colors, and strong adhesive labels.
K-Sun offers a lifetime warranty for the LX-PX800 and one-on-one customer service.
For more information visit www.ksun.com.