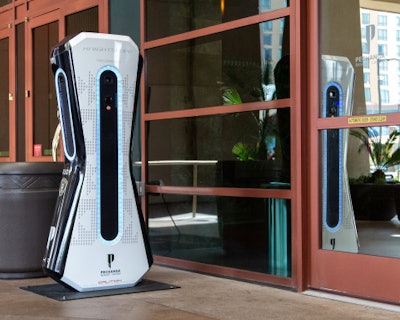 Knightscope has announced the beta release of a facial recognition feature for its K1 security robot. The announcement was made in March at the International Security Conference & Exhibition (ISC West) in Las Vegas.
The facial recognition tool was developed by Knightscope working with one of its clients, Pechanga Resort Casino in Temecula, CA. The software works on the company's K1 security robot and utilizes deep learning to detect, analyze, and compare faces and help enhance Workplace Violence Prevention (WVP) programs.
"Demonstration of the new feature helped make this year's ISC West one of the busiest and most successful trade shows for Knightscope to date. Prospective clients were able to upload a photo into the Knightscope Security Operations Center (KSOC) and then watch the K1 detect and report them as they moved about the booth. One creative individual even attempted to elude 'capture' by donning a pair of dark sunglasses to no avail," the company says.
"While facial recognition is largely seen as a tool to protect against known threats, it is also capable of greeting VIPs with a personal message and notifying our clients of VIP arrivals on site. It's a great way for businesses to think outside the box to deliver a greater return on their security investment," the company added.