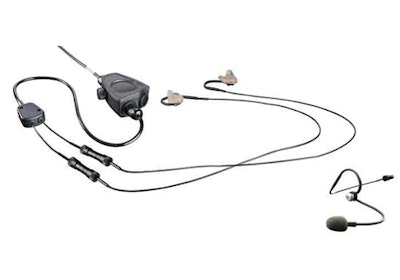 Tactical headsets are expedient in all areas of law enforcement—from motor patrol to SWAT operations. As tactical situations demand the most out of a team, it's important to find gear that will help get the job done, ensuring clear communication, comfort, and resilience.
Newer technology such as bone conduction and wireless functionality in addition to improved audio quality are utilized in these new products on the horizon for 2013.
The latest tactical headset from CeoTronics, CT-ClipCom Digital, offers a fully digital voice signal processing system that works with both analog and digital radios. Using bone conduction technology, the microphone sits in the user's inner ear. Electronics are built into a small box attached to the device, which is designed to fit comfortably underneath helmets or masks. The individually customized dual ear pieces suppress retransmission of sound interferences with a digital noise reduction function and provide certified 26dB hearing protection for flash/bang and gunfire-heavy operations. Additionally, ambient sound is processed digitally and can be adjusted to four sensation levels. The digital system allows for operation in multiple modes, including CT-ASR, CT-ASE, CT-DNR, and CT-RadioPTT, and has a CT-Bluetooth adaptation feature for GSM/radio.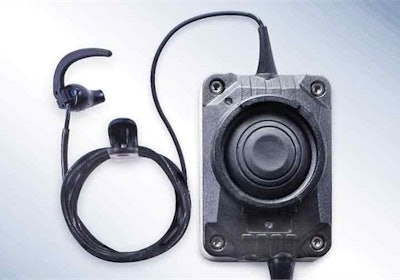 WhispEAR, the newest noise-canceling headset unit from E.A.R., features a mountable chest PTT. Although it was originally designed for motor patrol, it's now used for a variety of tactical purposes—the digital signal processing DSP brings clear communications in the field and provides benefits for patrol or any tactical entry. WhispEAR's ergonomic, lightweight build reduces bulk and can be worn in the right or left ear. Employing a form of bone conduction technology, the ear piece has small transducers that pick up vocal tones from inside the user's ear canal and convert them into an audio signal. Users can opt for a custom-made cable, and WhispEAR models also include a remote wireless PTT to increase flexibility in addition to a headset-type worn behind the ear.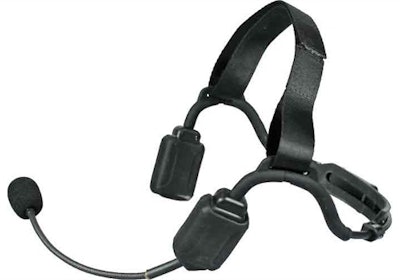 Pryme Radio's new Tactical Bone Conduction Headset (NBP-BH Series) features a microphone and speakers that vibrate the user's jawbone, transmitting audio directly into the inner ear. The noise-canceling, flexible boom microphone helps the user hear more clearly even when wearing passive hearing protection. Mic sensitivity is -42db ± -3db at 1 kHz. Extremely lightweight at only 4.1 ounces, the device has adjustable straps atop and behind the head for added safety, and a five-pin plug secures firmly to a PTT switch. The device is compatible with all Pryme tactical accessories. The standard package includes a PTT-1500B tactical hockey puck switch and user's choice of radio interface cable.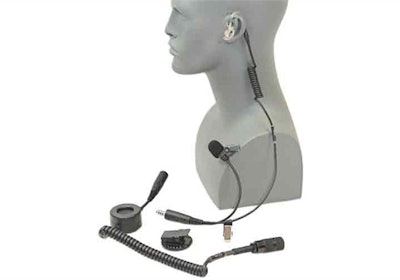 The Liberator II from Tactical Command Industries (TCI) provides a convergence of communications and digital hearing protection. Through TCI's Digital Threat Compression Technology, dual external microphones process ambient sound for situational awareness and additionally provide NNR 22 (up to 29dB) of hearing protection. The Liberator II offers low-profile ear cups, a standard microphone, and a ruggedized PTT assembly for compatibility with various tactical helmets. The headset now includes an alternate Tactical Enforcement Communications System (TECS) earpiece and lapel microphone that can connect to PTT; users can easily switch back and forth between the two. The system runs on two AAA batteries for up to 600 hours. All electronics on the device are sealed to resist moisture and are radio frequency shielded to prevent radio bleed through.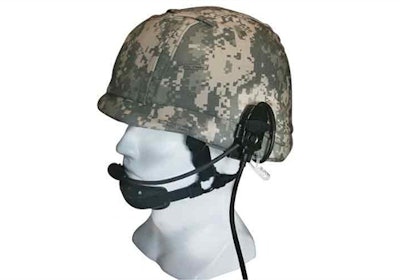 The x-62000 series In-ear Digital (DSP) headset from Threat4 merges an in-ear headset with features of a muff headset. An in-ear piece provides hearing protection and a boom microphone uses noise-canceling technology to afford clear communications. When worn close to the lips, the boom mic will cancel background noise on transmit and pick up whispers with its Quad-Mic Active Listening System (talk-thru/hear-thru) for 360-degree awareness. The microphone has three modes: natural ears with bionic; active listening muted; and adaptive noise reduction. Human hearing is naturally restored with the ability to increase bionic hearing in increments: 0dB, +2dB, +6dB, +9dB and +12dB. The modes can be factory altered and other modes are available—users can choose up to four modes. All electronics are mounted in the headset with no control box necessary.
Related:
Tactical Headsets and Mics: 2011