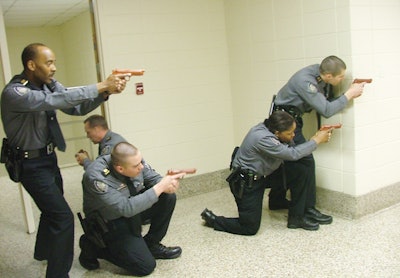 No one today needs to wonder if another terrorist attack or mass killing will occur in the U.S. With the Boston Marathon bombings and Sandy Hook shootings still fresh in our minds, we know that such calamities are a matter of when not if. And the question is: How can law enforcement be optimally prepared for the next critical incident?
There is no cure-all solution for planning for the worst. But since 9/11, law enforcement has been better able to both anticipate these events with precise planning steps, and more effectively and rapidly respond to them once they unfold.
Emergency response software has been created to help first responders use resources and tactics to handle a wide range of critical incidents. Although software itself is hardly a silver bullet that will crush a terrorist event, its capabilities are nevertheless reassuring. The challenge law enforcement and first responders must always face regarding major incidents is establishing the best possible pre-incident plan that considers all possible scenarios and tactics, and incident planning software can be of great assistance in this process.
Target Hardening
Law enforcement agencies do not deal with major incidents every day. Instead, they respond to and address crime in their local community. Yet containing local crime is just as critical as the larger-scale incidents.
For this reason, PredPol Inc. offers software aimed at "predictive policing." According to Jeff Brantingham, PredPol's chief of research and development, "Our focus is on anticipating, with accurate prediction, where and when criminal events are most likely to occur, and not with specialized operational resources, but with day-to-day resources to disrupt the opportunity for those events." Brantingham says PredPol's software is designed not so much for the extreme, rare events, but abundant, very common events of violence and other types of crime that is ongoing every day.
Predictability of events depends strongly on how frequently they occur. PredPol's software predicts where and when events are likely to occur, as well as who is mostly likely to perpetrate them. It does this using place-based prediction boxes as small as 500 feet by 500 feet. Officers are briefed at roll call on the highest-probability "hot spots" for that day and given instructions to devote extra attention to those areas—as much as 15 minutes every two hours. Officers can access PredPol's information from any tech device.
By helping agencies place police resources in a community's trouble spots at the right time, PredPol's software enables law enforcement to accomplish what Brantingham terms short-term "target hardening." Therefore, for the time that officers are in these trouble locations and defusing crime activity, they are helping to eliminate it. "This is a concept that has percolated into how to deal with rare, but more extreme events, like terrorist attacks," Brantingham said.
The software also better enables police to engage the people in the community down at the scale of which crimes are occurring, Brantingham continues. The ability for officers to communicate with the community through neighborhood watch meetings is valuable.
Integrated Operations
Critical incidents comprise more than terror attacks and mass killings. They also include other events that require public safety agencies to concentrate their resources, including lost hikers, natural disasters, and fires.
"The biggest challenge is having a visible response plan that can be implemented with the kinds of resources you'll need, and to know when and how to apply them, even if you don't know the details of the response," says Martin Colwell, president of Sar Technology Inc. Sar Technology's software solution is called Incident Commander Pro, and it combines pre-planning, resources, communications, and operations into one tightly integrated operational action plan.
Before introducing Incident Commander Pro, Colwell tested and refined it for five years in real-life incident-response missions. The software contains extensive resource lists, behavioral profiles, planning data, and prepared response plans.
Incident Commander Pro features ready-to-use response plans for a wide variety of critical incidents, including:
Active Shooter
Bomb Threat
Explosives Evacuation
Missing/Crashed Aircraft
Natural Disaster
Hazmat
Mass Casualty Incident
Urban Search
For an active shooter event, for instance, the ready-to-use software gives officers a general profile of an active shooter and a whole series of active responses that can be taken, according to Colwell. "It shows past responses and gives you a section on the kinds of resources such as SWAT, emergency medical, and media relations that officers would need to apply. With this in place, you're likely to give a better response," Colwell adds.
In addition, Incident Commander Pro allows users to create as many of their own generic or specific preplans as needed. Specific preplans would include, say, a floor plan for each building, tactical teams, comms systems, and a staging area. "The benefit with the software is that it becomes operational from the moment you turn it on," Colwell says. "The software guides people to the right kind of response."
Preventing Redundancy
When an incident erupts, it's not always instantly apparent what kind of situation it is. Is it a crime scene? Emergency management scene? Fire/hazmat scene? Terrorism scene? What form an event takes will dictate the kind of response needed and what resources to deploy. The CoBRA software program from Defense Group Inc. focuses on all of the above, but also on pre-planning, training, and exercises for a host of emergency incidents, including hazmat, chem/bio, IED, WMD, natural disaster, and any mass casualty event.
Neil Cohen, Defense Group's director of business development, stresses how important it is for responders to arrive on scene of major incidents and know their roles to prevent redundancy and turf wars. "The ability to coordinate and collaborate the response should speed up a more effective outcome," Cohen says.
The backbone of CoBRA is rehearsed exercises for likely events such as active shooter, natural disaster, fuel spill with potentially explosive materials, plus more. Therefore, users should be able to find a pre-plan in the software to help them respond to an incident and share information in real time. "We help agencies create living incident response plans that can be updated easily, and that are easily accessible from the field," Cohen says.
Crisis Negotiation
The Defense Group offers an equally powerful software package for crisis situations called TACT (Tactical Aid and Collaboration Toolset). The software is based on national guidance and training for crisis negotiation teams. It provides specific collaboration tools and data sets, and assists the tactical and crisis negotiation team in management of hostage and barricade incidents, kidnappings, suicides, and more.
TACT offers negotiation aides, a digital situation board, chat, tools designed specifically for the coach and the primary negotiator. The software's users can connect a throw phone to share audio, video, and pictures with the tactical team and offsite team members. Users also can quickly collect intel reports from team members offsite and create complete situational awareness.
An active shooter falls well into the kind of situation that TACT addresses. "This is a difficult situation," Cohen says. "If the incident team can engage the shooter without use of force, they will." TACT provides the tools to help facilitate negotiation with a shooting suspect and to reduce the chance for any loss of life.
Every crisis is different, and every region and location has its own specific challenges with respect to any given crisis. With products like TACT, Cohen says, "We're providing the information sharing tools to make more effective decisions depending upon the circumstances."
Sharing Information
Pre-incident planning expanded enormously after 9/11, but this practice had been in place for many years prior to the 9/11 attacks. Most fire departments have had pre-incident plans for buildings either in a paper format, stuffed in three-ring binders, or in digital files. In recent years, some of these departments have shared their layouts of commercial buildings with police departments for benefit of SWAT teams to know how to better respond to major crises such as bank robberies, hostage situations, and even active shooters.
Capt. Val Codino of the Canby (Ore.) Fire Department, several years ago began using The Fire Zone software from The CAD Zone Inc., which allowed him and other fire personnel to electronically create building layout drawings and site plan diagrams used for pre-incident planning. Each diagram shows the building floor plan and key details of the building and site, such as access points, stairs, locations of alarm panels, utility shut-offs, hazardous materials, hydrants, and more.
Codino later trained to become a tactical medic for the Canby Police Department Tactical Entry Team. After joining the team, he realized how valuable the pre-incident plans that his fire department was creating could be to Canby's police officers. Codino approached his fire chief and the police chief, and they agreed that if both agencies could use the pre-incident plans, this would benefit the community.
In addition to the Fire Zone software, another CAD Zone program, First Look Pro, is used in Canby to organize the Fire Zone diagrams and create comprehensive pre-incident plans. Each plan includes diagrams, photos, maps, information on building roof composition, access contacts, and more. Until recent years, fire and police personnel had instant access to pre-incident planning information.
The collaborative efforts between Canby fire and police paid off. There have been successful raids on meth labs at 300-unit apartments involving communication among Canby's fire, police, EMS personnel, and 911 center. The efforts have involved use of the CAD Zone pre-incident planning software.
Sgt. Doug Kitzmiller, who previously used the First Look Pro software before his department was switched to a countywide records management system that includes pre-incident planning, notes that the software was highly beneficial. "It really gives you an idea of what you're going into as far as the layout of the area or buildings," he says. "Once we saw how it (First Look Pro) works and what an asset it could be, we started implementing it for use on our tactical entry team."
Many SWAT teams respond to incidents, but without time to prepare floor plans of buildings. A trend in recent years is for these teams to serve search warrants. "This is because servicing search warrants is so dangerous and it's become a standard throughout the tactical community," Kitzmiller says. "So, you need to be doing some planning prior to serving these search warrants, and First Look Pro has helped us develop pre-incident plans."
The preplans have helped Canby's tactical entry team respond to calls regarding gang activities at apartment complexes where weapons were involved. "As a supervisor, I was able to leave my other officers at the scene, with containment on it, then I could reference First Look Pro on my mobile data terminal and pull up the location, layout, and access of the location on the screen and give it to other responders such as the county SWAT team," Kitzmiller says. But the electronic pre-incident plans are mainly helpful as the tactical entry team is en route to an incident. "We use First Look Pro to refresh our memories about a building layout before we get there," Kitzmiller adds.
The Canby tactical entry team also has used the pre-incident planning software for large-scale potential threats such as an active shooter at a local school. "We trained all of our department members yearly on a rapid deployment intervention, such as active shooter response training in case we had a Columbine type of event," Kitzmiller explains. "For schools, we even had detail down to classroom numbers. The software was a great tool because we needed to be able to quickly organize and make decisions about how we were going to enter a building and deal with the situation."
Codino agrees with Kitzmiller on the value of software that can aid both fire and police. "It's a new way of thinking for law enforcement—to not have to reinvent the wheel (floor plans for a community's buildings)," Codino says. "This kind of preplanning is not just for the tactical or SWAT teams, but for regular police patrol officers, too," Codino adds.
For More Information: