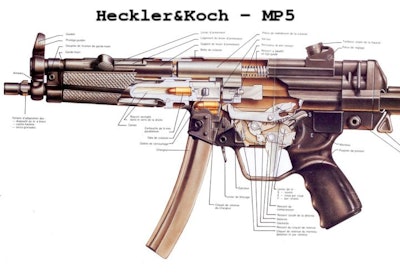 A cache of Los Angeles Police Department submachine guns and handguns was stolen last week from a secured building used by the department's SWAT unit, raising fears that the weapons, which police had altered to fire only blanks, could be converted back to lethal use.
The weapons, which include 21 MP-5 submachine guns and 12 large caliber handguns, were moved Wednesday night to a multistory building at 14th and San Pedro streets downtown and stored in a locked box on the building's first floor, LAPD Deputy Chief Michael Downing tells the Los Angeles Times.
A police officer arriving at the building around 9 a.m. Thursday discovered the weapons were missing. The officer also found electrical equipment stacked near a back door, indicating the burglars may still have been working and fled when the officer arrived.
Source: Los Angeles Times