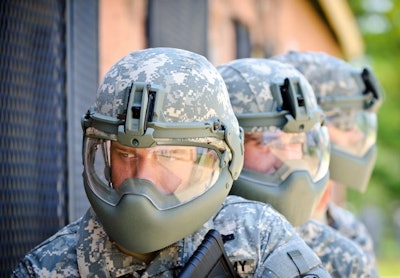 Revision Military is offering its Batlskin Modular Head Protection System to law enforcement officers, according to the company.
The system was designed for use with the U.S. military's Advanced Combat Helmet (ACH). Initial size offerings accommodate the ACH helmet's two most common sizes—medium and large. Small and extra large sizes will be available this summer. The Batlskin System includes the front mount, mandible guard and visor. It provides light-weight protection from blunt force, blast and ballistic threats, according to Revision.
"The Batlskin System is a modular solution that lets the soldier armor up or down depending on the imminent threat level," said Jonathan Blanshay, CEO of Revision. "It provides additional, life-saving protection when needed with the ability to quickly doff components once no longer necessary. We're pleased to extend this level of protection to individual soldiers and law officers who operate in harm's way."
The ACH-compatible Batlskin components can be purchased at Revision's online store and through select military retailers. The Batlskin Front Mount retails for $89.99; the Batlskin Three-Position Visor retails for $279.99; and the Batlskin High-Threat Mandible Guard retails for $479.99.