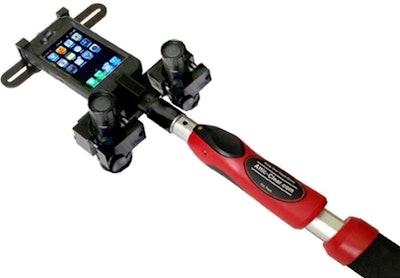 Micro-Times released an updated version of its Attic Clear, including the Attic Clear Pro extendable pole that allows officers to use their iPhone, smartphone or GoPro camera to see places that are normally out-of-sight.
The Attic Clear Pro features a redesigned universal mounting rack for the device and dual flashlight holders. After sliding in the device and flashlight, the Attic Clear Pro is ready for operation.
The pole elevates the device approximately 20 feet, which is ideal for viewing second-story levels. Designed and manufactured in the U.S., the new Pro version comes packaged in a 34-by-10 inch black padded gun case.
Micro-Times also introduced downloadable software that enables the iPhone mounted on the Attic Clear Pro to act as a camera and an iPhone or iPad as a monitor. The software automatically sends the video to the monitoring device via the built in Bluetooth for officers to review.
The Attic Clear Pro Kit's introductory price is $399.