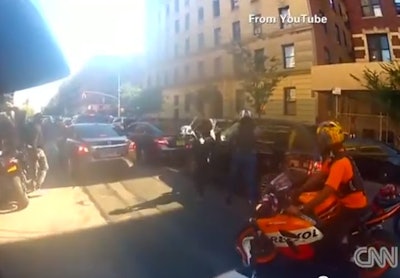 An undercover NYPD detective has been arrested and charged for participating in the beating of an SUV driver by a gang of bikers and lying about it to police.
Detective Wojciech Braszczok, 32, turned himself in on Tuesday, after the Manhattan district attorney signed off on his arrest warrant. Braszczok has been charged with riot and criminal mischief for pounding on a stopped SUV driven by Alexian Lien with and his wife and 2-year-old daughter as passengers.
Braszczok, a 10-year veteran who was working undercover, didn't participate in the beating of of Lien. He apparently hopped on his motorcycle and took off as other bikers dragged Lien out of the SUV and beat him.
The detective initially claimed he didn't intervene to help Lien so he could maintain his undercover persona. Video from the scene showed his participation, reports the New York Daily News.
Related:
Report: Undercover Officer Took Part In Biker Attack