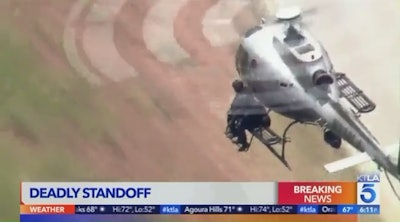 Los Angeles police fired a rifle from a helicopter during a shootout with a man killed in Sunland earlier this week, marking the first time that specially trained SWAT officers have opened fire from a helicopter hovering over a scene, the LAPD said.
Chief Charlie Beck told reporters that an autopsy would reveal how many times the 29-year-old burglary suspect was struck by gunfire Monday afternoon — and whether it came from officers on the ground or in the helicopter. But, the chief said, it appears he was struck by gunfire from the air.
The decision to bring in officers trained to fire from a helicopter was not taken lightly, Beck said. It requires approval from a high-level officer — in this case, an assistant chief who also discussed it with Beck beforehand, KTLA TV reports.