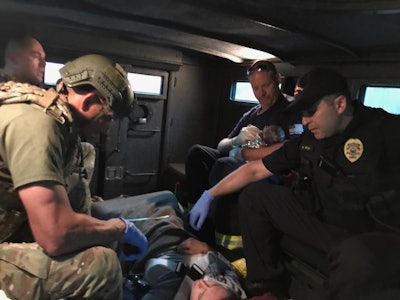 A family in Coral Springs, FL, called 911 when the soon-to-be mother went into labor Sunday during Hurricane Irma. Police and fire crews took a BearCat armored vehicle through the city to reach them because of obstacles created by storm damage, says Sgt. Scott Myers of the Coral Springs Police Department.
"When we got there, she was pretty much all the way out… and the mother of the person in labor was actually pretty much delivering the baby – her own granddaughter – in the bathroom on the floor," said Assistant Chief John Whalen of the Coral Springs Fire Department.
Whalen says the family was calm and smiling when he and fireman Chris Hurst arrived. The emergency workers ended up cutting the baby's umbilical cord before transporting the baby and mother to the hospital.
"We were trying to do everything professionally, but I wanted to take pictures to share this moment because it's not very often that we get to experience something like this," Sgt. Myers told CNN.