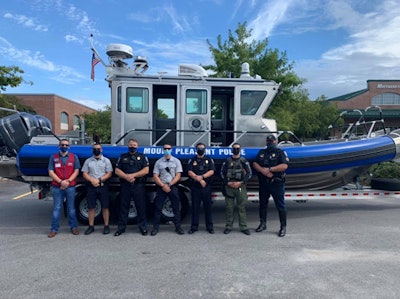 Officers with the Mount Pleasant (SC) Police Department have been training hard for several months in anticipation of adding a new asset to its capabilities in service of the community—a patrol boat staffed by officers who will work the local waterways to keep people safe.
The agency posted a photo of the officers and the new boat to its Facebook page earlier this month, and the local ABC News affiliate soon picked up on the development, noting that the department will have a small ceremony to christen the craft on Friday morning.
The Mount Pleasant Police Department serves a population of roughly 85,000 in an area of about 52 square miles on a peninsula bordered surrounded by water on three sides.
On the west is the Wando River and on the east the Atlantic Ocean. To the south is Charleston harbor.