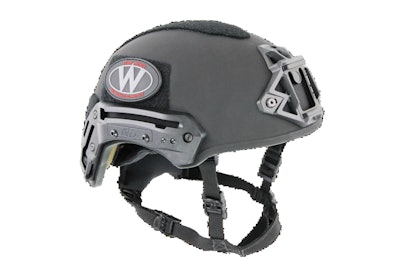 Team Wendy is at it again. If you're an avid POLICE magazine reader (and I hope you are) you likely saw my article a while back about the company's Exfil LTP tactical bump helmet. I raved about it then and I still think it is a great piece of kit. You might also remember me hoping for a ballistic version in the near future. Well I got what I wished for because the new and highly anticipated Exfil Ballistic was recently released to the tactical world.
In 2014 Team Wendy took its Exfil LTP design and added NIJ Level IIIA ballistic protection and superb fragmentation performance in a package that meets current ACH Blunt Impact Protection standards.
Weighing in at under 3 pounds, the Exfil Ballistic is a feather in a world of stones. If you've got an old ballistic riot helmet or military surplus Kevlar in your gear bag you know what I'm talking about. Most of these weigh well over 4 pounds and don't offer the same amount of ballistic protection. Anyone who's spent an hour or an entire shift with one of these on their dome will tell you that a 4-pound helmet quickly begins to feel like 40. Shave off over 25% of that neck-killing weight? Yes please.
That's not to say the Exfil Ballistic is a bare-bones shell with little else to offer; in fact that couldn't be farther from the truth. In front, the integrated Wilcox insert, machined from solid 6061-T6 aircraft aluminum, provides a rock solid platform for mounting NVGs or camera systems. On either side is Team Wendy's Rail 2.0 system that incorporates t-slots and picatinny rails, allowing the user to mount anything from a flashlight to electronic hearing protection to an oxygen mask system and beyond.
Now that we've covered the versatility of the helmet let's get to what really matters; the Exfil LTP's ability to protect your head. Inside the robust ballistic shell is Team Wendy's Next Generation Zorbium Pad System, designed to absorb repeated, concussive-level impacts and greatly reduce blunt force trauma to the wearer. The three-piece pad system is removable for ease of cleaning and can be customized for proper fit by adding additional comfort pads. To keep everything snug and secure to your head the Exfil LTP features a cam-lock slider system on the harness and a ratcheting Boa Closure System for one-handed tightening. It doesn't get any easier.
My Exfil Ballistic arrived in beautiful flat black with a few accessory rails to boot. Just like its older brother the LTP, it took me about 30 seconds to get it to fit perfectly. And when I say perfectly, I mean it felt awesome. Once I got it snugged down I added the accessory rails and began a series of mounting options, from hearing protection to light systems. Everything snapped on easily, and even with unequal weight distribution the helmet remained snug and balanced. I put on my Peltor electronic hearing protection and, after a quick adjustment to the harness system, the Exfil fit over them with ease. The mounting options are seemingly endless, and with those I attempted the Exfil performed admirably.
I have to say I was truly impressed by the Exfil Ballistic and it'll be part of my kit for a long time to come. My old riot helmet? He's found a permanent home on a bookshelf. I've since deployed The Exfil Ballistic on more than a few tactical situations and after wearing it for several hours I felt little neck fatigue or overheating. I'm happy to report the only feature I haven't field-tested is the ballistic protection. I'll take Team Wendy's word on that one.
Available in black, OD green, or coyote brown with black, MultiCam, and coyote brown soft covers and a variety of accessories, the Exfil Ballistic can be customized for any mission. I can't think of a better option for ballistic headgear.
TEAM WENDY EXFIL BALLISTIC HELMET SPECS:
NIJ Level: IIIA
Fragment Performance: 17-grain V50 ≥ 2400 ft/sec
Boltless Cam‐Fit Retention System
Zorbium foam liner with customizable comfort pad sets in two thicknesses
Removable center pad to easily accommodate overhead comms
Rail 2.0 accessory mounting system
Improved Peltor headset adapter for tighter comms cup seals
Wilcox W Shroud for NVG Mounts
Weight: 2.6 pounds for size 1, 2.75 pounds for size 2
Helmet Colors: Coyote brown, black, foliage green (additional available on request)
Helmet Cover Colors: Coyote brown, black, and MultiCam
Price: $962.95