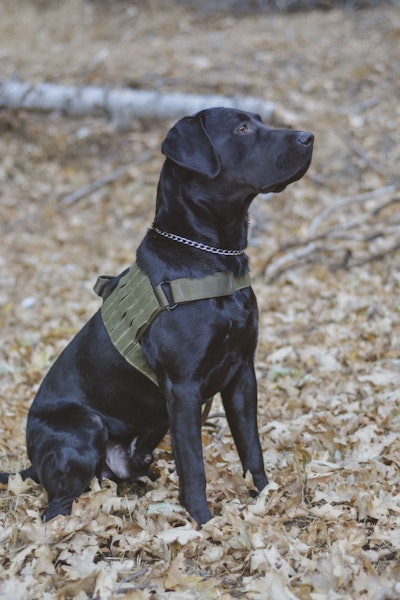 North American K9's CEO Kevin P. Cameron came to Voodoo Tactical with very specific ideas of the K-9 products he wanted to create to meet the needs of dogs and their handlers. As a combat veteran and military working dog trainer, handler, and kennel master he knows what works best for K-9 comfort and functionality. He relied on the team at Voodoo Tactical to translate his original designs into products he was confident law enforcement and the military could count on in critical incidents.
This new line consists of the Alpha K9 Mark I Tactical Duty Harness, Alpha Duty Harness, Tracking and Field K9 Harness, and K9 Duty Collar. All of the harnesses are built around the same design, with a sturdy yet highly adjustable two-strap system and MOLLE fields covered in "loop" all along the outside for hook-and-loop attachment of accessories and department ID.
"This is a new area for us," says Voodoo Tactical CEO Steve Adkisson. "We've done some police dog vests, but not like this. This is specialized. We collaborated on enhancements, physical features, and more, to create new and improved models of his original designs." Adkisson says the new line was by far the biggest draw to the Voodoo Tactical booth at the SHOT Show. He admits the cute factor of the K-9 modeling the designs helped, but the products stand on their own.
The Alpha K9 Mark I Tactical Duty Harness comes with stab-resistant NIJ Level III ballistic panels sewn in, using Cameron's patent-pending design. You'll notice that this harness has a very minimalist design, and that is not by accident. It only covers a K-9's vital organs so it stays lightweight, allows greater mobility, and doesn't cause the dog to overheat or become unnecessarily tired from the weight.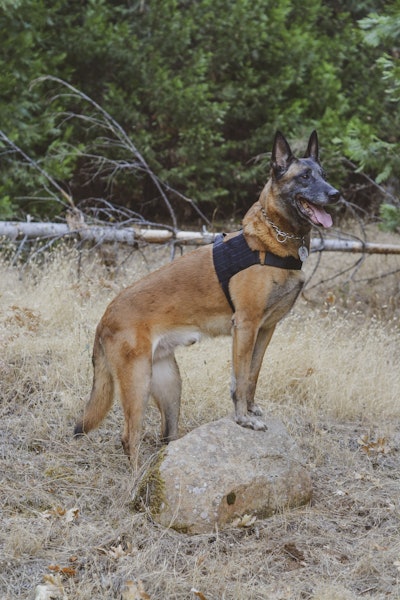 Cameron's design involves uniquely sized and shaped ballistic panels that are stitched permanently into the harness in such a way to ensure that the panels won't shift into the wrong position and to make the harness more comfortable for the dog to wear. If you elect to purchase one of the harnesses without the panels inside but later decide to add them, Voodoo Tactical will retrofit the harness. And after five years of wear, the company can also sew in new panels.
The larger Tracking and Field K9 Harness is designed with lightweight and durable nylon webbing throughout and mesh underneath so the dog stays cool while still providing more area to carry equipment for search-and-rescue missions and other calls. The K9 Duty Collar can be used with any of the harnesses and is designed to be so durable that "It's probably the last collar you'll ever have to buy," says Adkisson.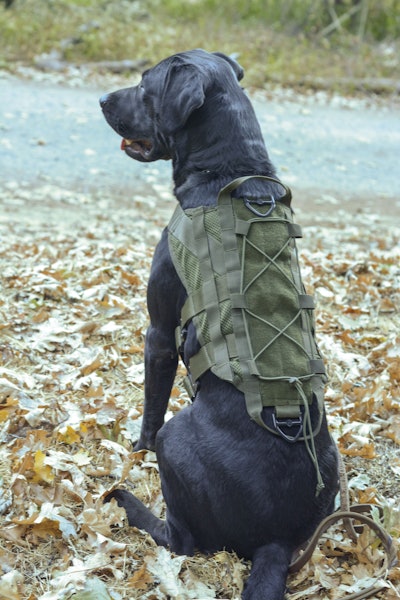 All components are designed to withstand rappelling, thanks to specially rated Cobra buckles, reinforced double bartack stitching, and overall heavy-duty construction. So you can confidently lower a K-9 from a helicopter if needed.
Every item in the line comes with a lifetime guarantee under normal hard use and is available in black or OD green. Because Voodoo Tactical controls the manufacturing the company can create them in any color for special orders, and also add any special patches or embroidery an agency needs.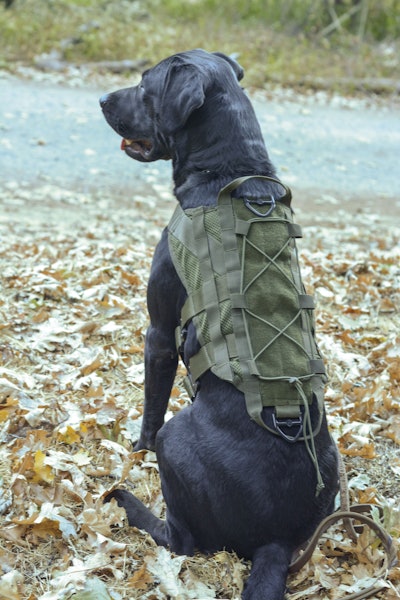 Prices range from $34.95 for the K9 Duty Collar to $79.95 for the Alpha Duty Harness and $199.95 for the Alpha K9 Mark I Tactical Duty Harness with included ballistic panels. Law enforcement discounts are available.
Adkisson says he is excited to soon begin expanding the product selection with the next phase of the North American K9 line manufactured and distributed by Voodoo Tactical. It will include medical kits such as one containing clotting agents, bandages, and gauze intended for K-9 injuries; broader body armor coverage; and additional accessories.
"We're very proud to be doing this with Kevin Cameron," says Adkisson. "This is a very special, dear to our heart aspect of law enforcement."