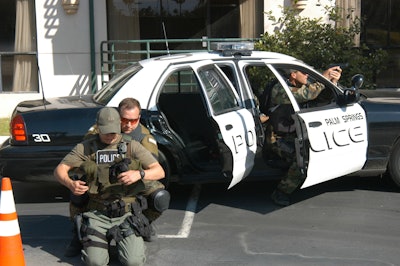 Traditional approaches to emergency medical services during law enforcement tactical operations have historically often proved less than adequate. Within the past several years, however, tremendous advancements have been made in what is now referred to as tactical medicine. In addition, if staff are properly trained, the medical component can be staged safely and as close as possible to the site of injury without disrupting tactical operations.
Police tactical units must often respond to calls involving barricaded suspects, hostage situations, and organized crime. Tactical operations are occasionally prolonged, creating ongoing logistical and medical concerns for the team and the unit commander. With these considerations in mind, law enforcement agencies now recognize the necessity of having advanced trauma life support personnel immediately available at the scene of any incident involving tactical operations.
Despite the increasing nationwide awareness of the value of having an on-scene specialized medical team, the medical consequences of tactical operations are often overlooked or completely left out of the operational plan. In today's litigious world this practice is certain to come under close legal scrutiny.
The concept of having a specialized medical care unit available during a tactical operation is not new. In the past several years many local, state, and federal law enforcement agencies have developed tactical medical programs that operate with tactically trained physicians and paramedics.
Many tactical team commanders and law enforcement agency management personnel now realize that operational risks can be greatly reduced with tactically trained on-scene medical support personnel. Here is what you need to know to reap the benefits of a tactical medicine program at your agency.
Tactical Officer Medical Limitations
Most law enforcement personnel are typically trained only to the level of basic first aid. In addition, most tactical officers would lack the experience and training to assess and provide rapid triage for injured victims.
Supervisory police personnel at the command post are preoccupied with the tactical situation, and often do not understand or recognize the implications of certain illness and trauma processes during prolonged operations. For these reasons a tactically trained medical support component is crucial for the safety and health of the tactical team and critical to the success of the operation.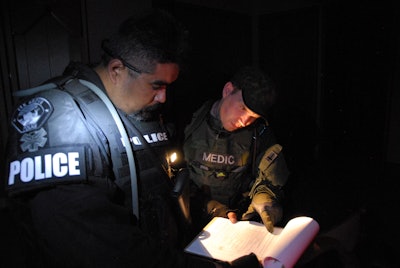 Civilian EMS Constraints
During tactical operations involving a barricade or hostage situation, tactical team commanders have historically staged civilian EMS personnel remotely for their personal safety. However, this creates problems. When called upon for medical assistance they often cannot gain access to the scene in order to provide emergency medical care in a timely and efficient manner to injured victims.
Often, the EMS crew is very reluctant to enter the scene because they are not convinced that the scene is absolutely safe for them to enter. By the time the scene is deemed safe, an injured officer could have already bled to death. In addition, critical information necessary for proper care and eventual trauma center management is fragmented and diluted due to confusion and stress on the EMS personnel upon their arrival.
Not having direct communication channels with the command post removes them even further from being able to support the team. To further compound the problem, without tactical training they are unable to operate safely with the deployed law enforcement tactical unit.
Establishing a Tactical Medicine Program
Consideration for tactical medical support can be provided to law enforcement agencies through a wide array of options, from civilian EMTs to sworn or designated reserve police officers who are physicians or paramedics. An agency must decide what best suits the needs of the team, and perform a departmental cost-benefit analysis of its own program.
Possibilities for resources could simply involve the assignment of selected fire department, rescue, or local EMS personnel to support the SWAT team. Other options include deciding whether to train members from their respective teams to become paramedics or EMTs. This option is unfortunately a labor-intensive financial burden for most law enforcement agencies.
If a higher level of medical care such as a team doctor is desired, a qualified physician should be sought. A qualified physician is one that has experience and training in the recognition and management of medical emergencies and advanced trauma life support. Residency-trained board-certified emergency physicians are specialists in emergency care and are ideally suited for this type of work.
The sources for emergency physicians are abundant. Most police officers personally know several of the local emergency physicians having frequently visited local hospital emergency departments while conducting law enforcement duties. It would not take long for interested police officers to identify those physicians as potential team players and who could be viewed as prospective candidates to serve as a team physician.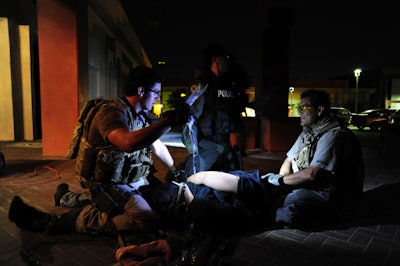 Training for the Tactical Medicine Team
Once the tactical medical team is selected, training issues must be addressed before the team is deployed in the field. Several options exist for tactically training the medical team. If budget constraints do not afford sending the medical personnel to a basic SWAT school, then in-house monthly tactical training would be a cost effective option. A basic one- or two-week dedicated SWAT school should provide the essential tactical knowledge and skills required to operate safely in the tactical environment.
Tactical training for medical team members is important for a number of reasons. First, no team member, regardless of his or her position or assignment, can be an effective integral component without proper training.
Second, tactically training the medical support personnel allows the medical component to understand all aspects of tactical operations and the risk-benefit ratio associated with each tactical decision. It also allows them to understand the roles and responsibilities of each team member.
Finally, there is the liability issue, brought about by the nature of the austere conditions that exist during tactical operations. No tactical team commander should feel comfortable with medical support operating within this environment if they have not received the proper training.
Agency Assets
Once established, a tactical medical team can perform numerous high-level functions to support the SWAT team and reduce police department liability. The team can provide careful advance coordination and planning for the necessary specialized medical equipment, and transport assets needed for successful tactical operations.
While most EMS agencies operate in urban areas which are hospital-heavy, some tactical operations take place in remote or rural areas, often hours from the nearest hospital or even farther from a trauma center. In these cases, on-scene medical support with advanced life support capabilities can secure an airway and I.V. lines. Stabilizing the injured officer for transport might make an important difference in his condition once en route to the trauma center.
A team physician on-scene can provide a wealth of medical knowledge, medical control, and guidance for paramedics assigned to the team.
Should complications of injuries exceed paramedic protocols, the need to contact a base station is avoided and mission security is maintained.
The team physician can ensure that injured officers are afforded the best possible on-scene medical treatment and if necessary are then transferred to an appropriate medical facility in a timely manner.
A physician serving as a medical advisor is a definite asset to the team commander, as any minor medical problems that come up during an operation can be managed in-house.
A tactical medical team that supports a police SWAT team contributes superior team morale and spirit and will reduce lost work time for specially trained and difficult-to-replace police officers. The reduction in line-of-duty injuries then translates into reduced disability costs to the agency.
Ultimate Goal
Emergency medical support of tactical operations can and does enhance the probability of a successful operation. When officers are critically injured during a tactical operation, the goal should be to reduce the time from injury to definitive care. These objectives must be balanced between the maintenance of medical and tactical skills and continuous evaluations of those prehospital procedures that make a difference in the outcome of the injured. Above all, the ultimate goal is to minimize injury, maximize survivability, and to stay safe.
Lawrence Heiskell, MD, FACEP, FAAFP is an emergency physician and a veteran reserve police officer with the Palm Springs (CA) Police Department. He is the founder and medical director of the International School of Tactical Medicine.