When you're managing large groups of people and trying to maintain some semblance of order, the right equipment can make a big difference. From communicating with concertgoers to arresting protestors, here's a selection of tools to add to your kit.
Alternative Ballistics Alternative Impact Device
The Alternative from Alternative Ballistics is a blunt force impact device that is fired from an officer's duty pistol. The Alternative projectile fits over part of the slide and the muzzle of the pistol. "Once the sidearm is fired the bullet travels down the barrel and welds itself inside the projectile," the company says. "The bullet and projectile instantly becomes one unit and the kinetic energy is simultaneously transferred, which propels the projectile toward the target." The company says the impact of the Alternative projectile is the equivalent of being hit by a "170-mph fastball." According to Alternative Ballistics, the Alternative is intended to be used in situations where deadly force is legally justified. Once the Alternative has cleared the muzzle, the officer can follow up with deadly force, if necessary.
AmpliVox Portable Wireless PA System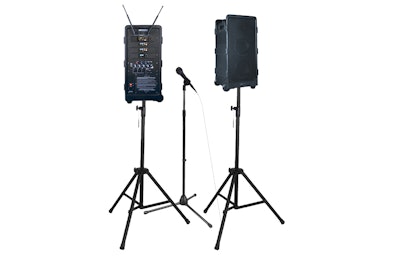 AmpliVox Sound Systems has introduced an upgraded version of its Digital Audio Travel Partner Plus wireless portable PA system with a 96-channel wireless receiver. The company says the new capability will help increase sound coverage and reduce wireless channel interference. The system features a 250-watt amplifier, delivering clear sound to crowds of up to 7,500 people indoors or out, in areas up to 25,000 square feet. It offers complete portability, with built-in wheels and retractable handle, plus a rechargeable battery that runs up to 10 hours on a single charge.
Armor Express AMP-1 TP Ballistic Helmet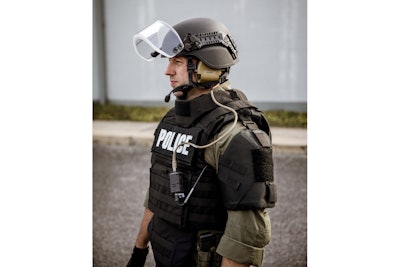 The one-size-fits-most Busch PROtective AMP-1 TP helmet from Armor Express is designed to protect the wearer from close-quarter combat threats. The lightweight helmet is made of an aramid composite for ballistic protection. Increased edge and multi-impact capabilities enhance its protective area by up to 50%, compared to standard ballistic helmets, the company says. The AMP-1 TP also offers high fragmentation protection and is certified to the VPAM-3, NIJ, DEA, and FBI protocols. An optional face shield can protect the wearer from blunt force impact and liquid threats, while providing Level IIIA ballistic and fragmentation protection.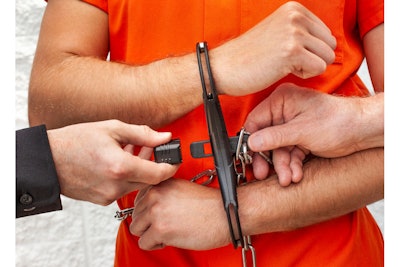 ASP's Transport System is a specialized line of restraints designed for corrections, transport, and courtroom use. The hub of the system is the company's Rigid Ultra Cuff wrist restraints, which provide a central connecting point for other system elements, including a waist chain, extra-long waist-to-leg chain, and ankle cuffs. The modular system is designed with officer safety as a priority—the subject remains secured while components are added, removed or adjusted, and a key is not present when securing the locks. The all-in-one Transport Plus set includes the rigid cuffs and key, a set of ankle cuffs, an extra-long chain to secure around the waist and connect the upper and lower elements, and high-security auto-locking blocks, and keys.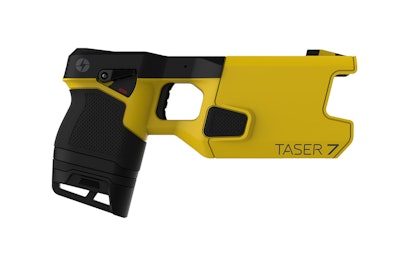 The TASER 7 is the latest electronic control weapon (ECW) from Axon. Axon says the TASER 7 is its most effective ECW with features that include rapid arc technology to compensate for narrow probe spreads and spiral darts that fly straighter and faster than previous TASER darts. The new darts have double the kinetic energy on impact so that they can compress loose clothing. TASER 7 cartridges are optimized for short shots, with 93% more probe spread at close range. The company says this is critically important as 85% of TASER deployments occur at close range. TASER 7 is the first Axon CEW to connect wirelessly to the Axon network for firmware updates and inventory management.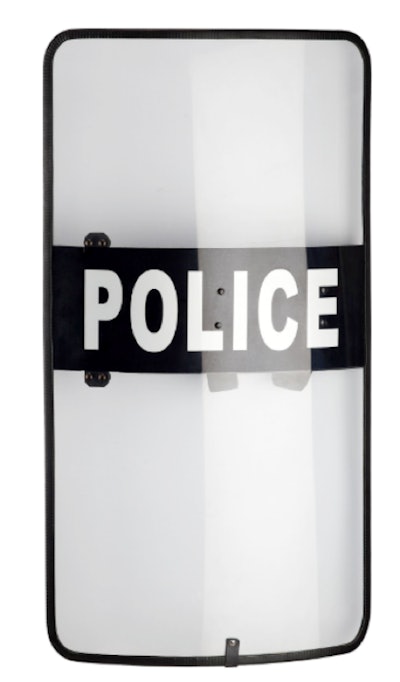 The RUB-X riot shield from Executive Defense International (EDI) is lightweight and provides protection against a number of common riot threats. The shield is molded with a durable suction-mold style, and has a strong protective hardened black border around the edges. The protective black border helps prevent the shield from chipping during use and also protects officers against higher-impact threats. Compatible with FoxFury's tactical shield light.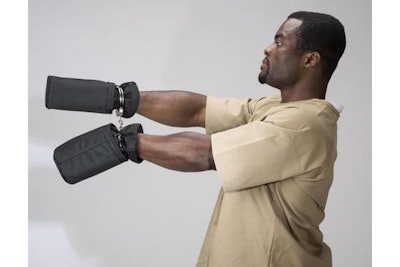 Humane Restraint's Hand Kuzi restricts dexterity so that prisoners cannot manipulate contraband or other potential hazards while handcuffed. The Kuzi is 10.5 inches deep and 4 inches in diameter. It's made with 2-inch nylon cordura, and features a 1-inch D-ring and heavy duty plastic sheeting. Handcuffs are sold separately.
LA Police Gear BFE Stretch Pant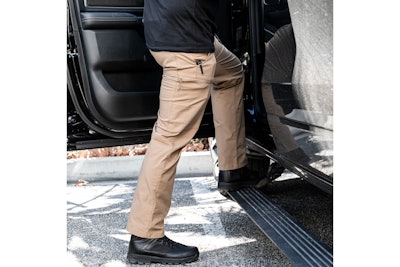 LA Police Gear says the BFE Stretch Tactical Pant is the result of its mission to design a tough, comfortable, practical, and stylish tactical pant. The pant is made of a 67% polyester and 33% cotton fabric blend with mechanical stretch built in. The pant features zippered cargo pockets with interior organization for mags, tourniquets, and other gear; rear hip pockets sized for rifle magazines and cell phones; and many other tactical pant standards.
LTL Vantage SureLock Restraints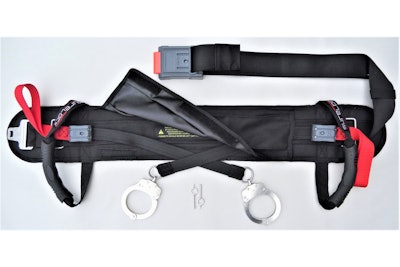 LTL Vantage is the exclusive producer of SureLock cut-resistant restraints, a patented device for maintaining flexible control while restraining prisoners, detainees, or medical patients. SureLock was designed for controlling violent, drug-intoxicated, or mentally ill subjects. Two embedded stainless steel cords are woven into the waist belt and hand tethers, making the restraint cut-resistant. By simply pulling the tether handles, the escorting personnel can retract a subject's movement to any degree up to the point of immobilization without compromising a subject's health and safety, LTL Vantage says.
Sabre Security Equipment Corporation 0.68 Caliber Launcher and Projectiles
Sabre's SL-SAC less-lethal launcher deploys 0.68 caliber projectiles containing OC formula/Pava. It is designed to be accurate up to 66 feet but can be used at a distance of up to 175 feet. It features auto feed technology with a hopper that holds up to 200 projectiles and is fully pneumatic so there are no batteries required. The 26ci/3000psi compressed air system provides up to 200 shots per fill for continuous fire. An optional folding stock is also available.
Safariland Praetorian Riot Suit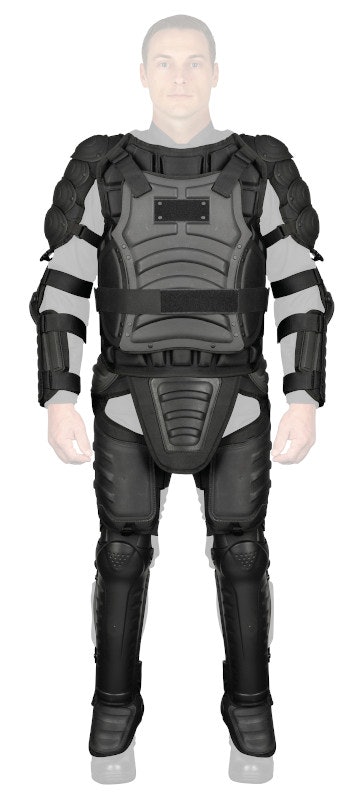 The Praetorian Riot Suit from Monadnock, a Safariland brand, is a hard polypropylene modular riot suit with a shock absorbing padded layer. Its modular design allows for interchangeable suit parts and pieces, and the quick-release buckle system allows fast donning and doffing. Articulating elbow and knee pads allow for improved movement, and suit ventilation and padding make it more comfortable to wear than some riot suits. Additional padding and support are incorporated in the shoulder, elbow, groin, and knee.
Sirchie TacCommander Riot Suit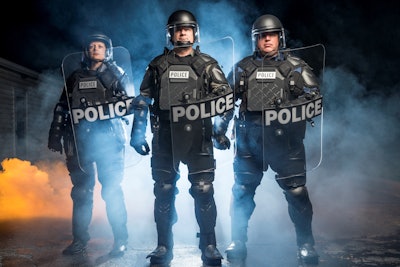 Sirchie's TacCommander modular riot suit system allows a wide range of body sizes to use the same suit. A patented hammock system in knee and elbow pads provides shock absorption and greater comfort. The TacCommander offers full torso coverage and chest protection with front and back removable blunt force trauma plates that can be replaced with ballistic plates. It provides maneuverability with adjustable connectors between pads. It is now available with an optional flame-resistant treatment for added protection during a riot or violent protest.