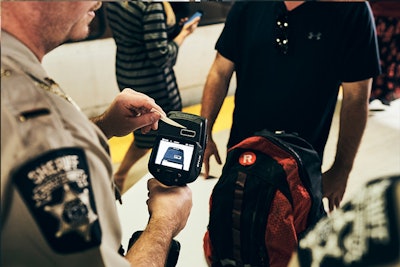 FLIR Systems
Fido X4 Premium Handheld Explosives Trace Detector
The Fido X4 is FLIR Systems' newest, most advanced version of its premium handheld explosives trace detector. FLIR Systems' TrueTrace detection technology features a new five-channel sensor array to deliver expanded threat coverage. According to the company, TrueTrace can accurately detect a wide range of explosives at nanogram to sub-nanogram levels in as little as 10 seconds. A simplified user interface features onboard video tutorials, user prompts, and color-coded alarms with strength indicators, while analysis and reporting of results are made simple through multiple modern connectivity options.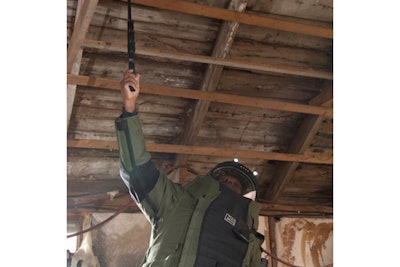 Med-Eng
EOD 10 Suit and Helmet
The EOD 10 from Safariland brand Med-Eng is a sophisticated ensemble designed to offer an optimal balance between protection, weight, fit, and capabilities. It is certified to the NIJ Standard 0117.01 for bomb suits and benefits from a more ergonomic design to reduce weight and increase mobility and flexibility. The system also features a new helmet to increase protection and improve fit, an integrated voice command system to keep the user's hands free to carry or deploy tools, enhanced situational awareness, enhanced ventilation, an improved foot protection system, and mission-specific lighting. A complete ensemble consists of a suit, helmet, battery option, and foot protection.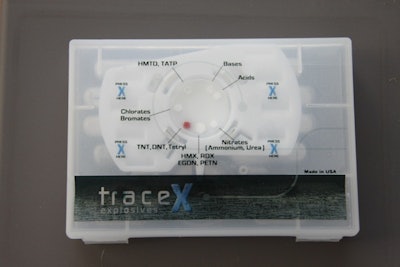 Morphix Technologies
TraceX Explosive Trace Detection Kit
Law Enforcement officers often need presumptive tests to identify the presence of explosive materials and their precursors. The TraceX handheld explosive trace detector from Morphix Technologies is made to be straight-forward and intuitive. All major explosive materials and their precursors are detected in a single swab and the design keeps the user's hands away from the collector to minimize contamination. You can use the TraceX explosive trace detection device to help identify bomb-makers and their bomb-making facilities in the field.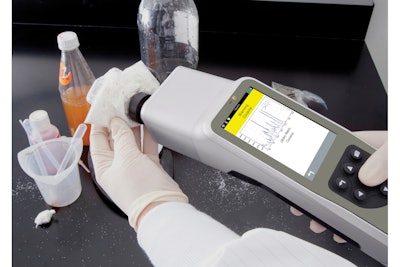 Rigaku Analytical Devices
ResQ CQL
Rigaku Analytical Devices' Rigaku ResQ CQL is the company's next generation 1064nm handheld Raman analyzer. The company says its improved ergonomics, analytical performance, and sample presentation make it even easier to perform chemical analysis of powders, liquids, gels, and mixtures—even in non-visible amounts. The Rigaku ResQ CQL's standard library contains over 13,000 chemicals including explosives, chemical warfare agents (CWAs), precursors, hazardous chemicals, narcotics, and more, as well as the added capabilities to upgrade, transfer, and translate entries.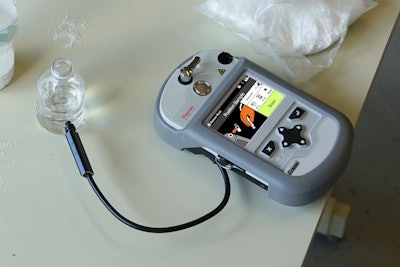 Thermo Fisher Scientific
Thermo Scientific
Gemini Analyzer
The Thermo Scientific Gemini Analyzer from Thermo Fisher Scientific is made to allow officers to identify a broad range of unknown chemicals and explosives in the field quickly, safely, and confidently using FTIR and Raman spectroscopy in a single instrument. According to the company, the Gemini Analyzer is the first to integrate these complementary and confirmatory chemical identification techniques in a rugged, lightweight, handheld solution.