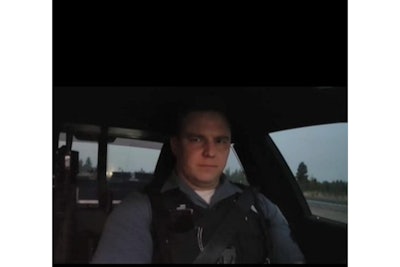 An Oregon State Police trooper in Bend has been placed on paid administrative leave for posting a video on Instagram in which he says he will refuse to comply with Gov. Kate Brown's vaccine mandate and decries "unlawful orders" that threaten Oregonians' livelihoods, his attorney said Thursday night.
"I have personal and religious reasons as to why I will not take the vaccine, but also the freedom not to," said the trooper, who Portland attorney Dan Thenell confirmed to NewsChannel 21 is Zachary Kowing, 29, an eight-year OSP trooper assigned to the Bend office.
Kowing posted the 2-minute, 35-second video about a week ago on his Instagram account, thinblueline_patriot, where he refers to himself as "pro-choice-life" and "pro freedom," with a 'SAVE OREGON!' logo over the U.S. flag, KTVZ reports.
The video apparently was shot in his patrol car and while in uniform, though Thenell noted he does not give his name in the video (or on his account) or identify the agency that employs him. Instead, he refers to himself simply as "a Christian, a husband, a father and a police officer."
Kowing says he's aware he is "likely to be fired over this video, but I'm nonetheless exercising my First Amendment rights to speak freely."
Thenell provided these additional statements to KGW Friday morning:
His actions are not an objection to the vaccine, but to the Governor's Executive Order that attempts to force State Executive Branch Employees to be vaccinated for face termination, he told KGW.

Trooper Kowing says he has had several friends and a few family members that have had Covid and lived to tell the tale. He does not discount the toll that this has taken on people, including some close to him. He has many friends who have taken the vaccine and supports their choice to do so.