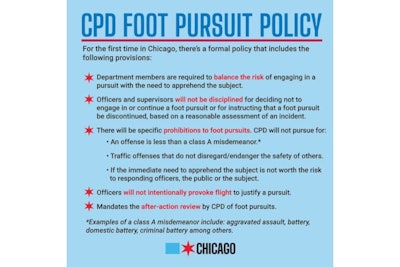 Chicago police are adopting a new foot pursuit policy. The policy is being established because of two high-profile shooting that were preceded by foot pursuits.
"Because foot pursuits are one of the most dangerous actions that police officers can engage in, we cannot afford to wait any longer to put a policy in place that regulates them," Chicago Mayor Lori Lightfoot said in a statement Wednesday.
Under the policy, which takes effect June 11, foot pursuits are "appropriate only when there is probable cause for an arrest or it is believed an individual has committed, is committing or is about to commit a crime," USA Today reports.
Officers are directed to discontinue foot pursuits if someone is injured and requires immediate medical assistance, if officers are unaware of their location, if officers engaged in the pursuit believe they would not be able to control the suspect if a confrontation were to occur, and "if the need to apprehend the subject is not worth the risk to responding officers, the public or the subject," according to the new policy.
The policy also outlines the responsibilities for supervisors, who are allowed to instruct officers to discontinue a foot pursuit at any time and requires officers to notify the city's Office of Emergency Management and Communications of a foot pursuit.
Before the new policy goes into effect, department members will have to complete a mandatory e-learning program that will familiarize them with the new guidelines.