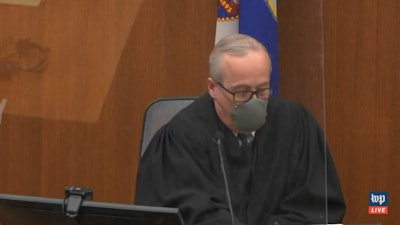 The judge overseeing the trial of the former Minneapolis police officer charged in the death of George Floyd reinstated a third-degree murder charge in the case Thursday, paving the way for the trial to proceed as scheduled.
The decision was a victory for prosecutors who had sought to re-add the charge against Derek Chauvin, the officer filmed with his knee on Floyd's neck during an arrest last May. He is already charged with second-degree murder and second-degree manslaughter in the Floyd's death. The addition gives prosecutors another avenue for conviction, but with a shorter prison sentence.
On Wednesday, the Minnesota Supreme Court declined to take up the appeal filed by Eric Nelson, Chauvin's attorney, seeking to overturn a state Court of Appeals ruling that ordered Hennepin County District Court Judge Peter A. Cahill, who is overseeing the trial, to reconsider a third-degree murder charge in the case. The appellate court then issued a final judgment in the case and sent the issue back to Cahill, who heard arguments on it Thursday morning, the Washington Post reports.
Cahill threw out the charge in the fall and declined to reinstate it last month, arguing the statute requires the fatal action to be "eminently dangerous to others."
"The evidence presented by prosecutors so far has only shown that Chauvin's actions were eminently dangerous to Floyd," Cahill said in an October ruling.
Jury selection for the trial continued Thursday. At presstime six jurors have been accepted.