The Louisville Metropolitan Police Department (KY) released body-worn camera footage of when officers rescued a woman being held captive in a home and chained to the floor in an upstairs bedroom.
The police department reports officers were dispatched to the two-story house around 7 p.m., Aug. 16, and heard, and saw, a female screaming for help. Neighbors had heard the screaming and called the police.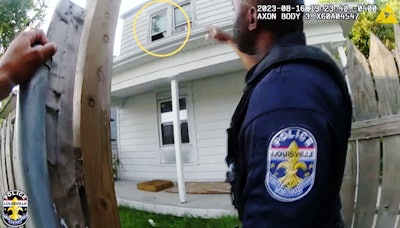 When officers tried to make forced entry downstairs, they found the door and all lower-level windows had been barricaded. So, they located a nearby ladder and used it to reach the roof and access the second-floor window, as shown in the video.
Inside the bedroom, they found an adult female who was being held captive. A chain was secured around her neck and padlocked. The other end of the chain was attached to the floor.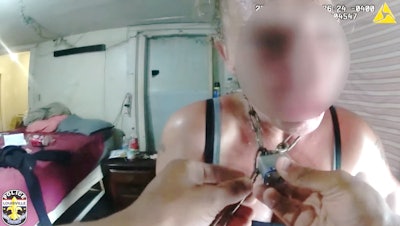 One officer found a hatchet and used it to break the chain free from where it was secured to the floor.
Once officers had the woman outside, a firefighter is shown using bolt cutters to free the chain from around the woman's neck and she was treated by EMS.
The LMPD Domestic Violence Unit investigated the case and two days later made an arrest.