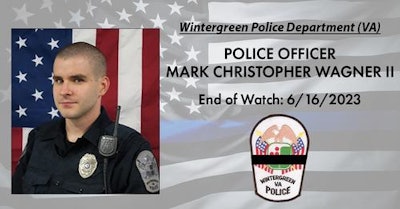 Officer Mark Christopher "Chris" Wagner II of the Wintergreen (VA) Police Department was shot and killed during an encounter with an assault suspect.
Wintergreen police received a call about a man assaulting two other men at a home, Virginia State Police said in a news release. The two injured men had run away from the home by the time police arrived, and they were treated at a hospital for unspecified injuries that were not life-threatening, state police said.
Wagner found the assault suspect, 23-year-old Daniel M. Barmak, of Towson, Md., in nearby woods, and they got into a struggle, WTVR reports. Wagner was shot during the confrontation and he died there, state police said.
Barmak, who was also shot, was taken into custody and was treated at a hospital for juries described as not life-threatening, according to state police.