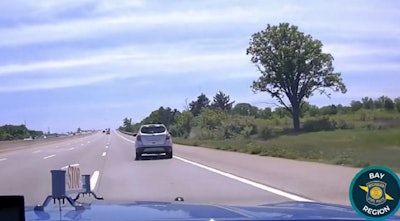 A Michigan State Police dashcam video has captured a 10-year-old suspect leading police on a chase along Interstate-75 after allegedly stealing a vehicle.
The boy told investigators after he was caught that he took his mother's 2017 Buick Encore SUV because he had wanted to visit his mother in Detroit, State Police Lt. Kimberly Vetter told MLive.com.
The website reports that the child apparently was staying with relatives prior to the incident on May 27.
Police said the "juvenile driver ran from the stolen car before [he was] taken into custody nearby" and that "No injuries were reported."