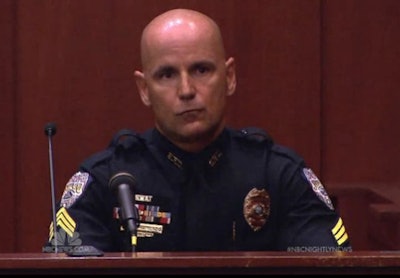 The Sanford (Fla.) Police sergeant who attempted to save Trayvon Martin as he lay on wet grass with a gunshot wound to the chest testified Tuesday during the second day of George Zimmerman's murder trial.
Sgt. Anthony Raimondo Jr., an agency veteran and SWAT sniper, immediately went to the teen's unresponsive body when arriving at the scene, checked twice for a pulse, and began performing CPR. Raimondo did mouth-to-mouth while a second officer did chest compressions.
"I breathed for Mr. Martin ... or I tried to, sir," he told prosecutor John Guy, reports the Miami Herald.
Zimmerman has been charged with second-degree murder in the fatal shooting.