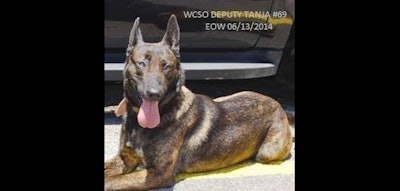 The Walker County (Ga.) Sheriff's Office reports their K-9 deputy, Tanja, was killed in the line of duty Friday night, while responding to a reported sexual assault.
The Walker County Sheriff told WRCB-TV 3 when deputies responded to the 300 block of Moon Lake Road, near State Line Road in High Georgia, the suspect inside opened fire on officers.
Dep. Donnie Brown was shot in the face and neck by a stray bullet, but he is expected to survive.

The Sheriff has identified the suspect as 58-year-old Steven Lee Waldemer, who is a convicted felon on parole in Idaho. He is now in custody.
K-9 Tanja "was leading through the front door to try to apprehend the suspect, he fired a shot, killing the canine and also wounding the deputy Donnie Brown in the neck and face. I'm very thankful that the deputy's injuries do not appear to be life-threatening," Sheriff Steve Wilson told WDEF-12 News.