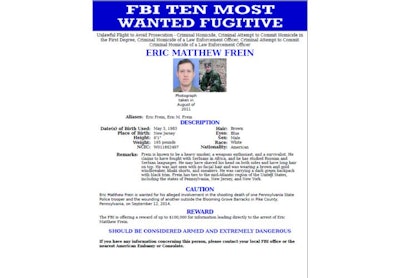 The FBI has added the suspect in last week's deadly ambush at a Pennsylvania State Police barracks to its Ten Most Wanted Fugitives list, reports CBS News.
"We now have made the world where he could hide a very, very small place," FBI Special Agent Edward Hanko, who's in charge of the bureau's Philadelphia field office, told reporters.
Authorities have been searching for Eric Frein, 31, for nearly a week after two state troopers were attacked just before midnight Friday in front of their barracks in Blooming Grove just as a shift changed.
He allegedly shot and killed Cpl. Bryon Dickson and seriously wounded Trooper Alex Douglass.
"We think he's on his own," state police Commissioner Frank Noonan told reporters. "Of course, we're not sure, but that's the way we're looking right now."
With Frein's addition to the wanted list Thursday, the FBI will be offering a reward of up to $100,000 for information leading to his arrest.