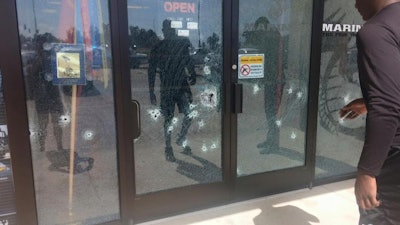 The July 16 shootings in Chattanooga, Tennessee, which left four Marines dead and one sailor wounded, are part of a string of attacks — some successful and others thwarted — against military recruiting stations in recent years.
"Recruiting offices have been kind of on the leading edge of targets simply because they are both ubiquitous and they're vulnerable," Brian Michael Jenkins, senior adviser to the president of Rand Corp, told the Military Times.
The gunman in Chattanooga, identified as Mohammad Youssef Abdulazeez and also killed in the incident, targeted a joint-service recruiting station and a nearby Navy Operational Support Center, where the Marines were killed and the sailor was wounded.
Both al-Qaida and the Islamic State group have called for attacks on service members and their families.
"These recruiting offices are everywhere," Jenkins said. "They're in shopping centers. They're all around the country. So if you think about attacking a military target, as opposed to driving to some military base where there will be armed guards at the gate; if you want a geographically convenient, readily accessible target that the shooter can portray as a military target, then recruiting stations fit the bill. So the attack, while shocking, is not surprising."
The U.S. should expect such attacks to continue as part of the overall war against al-Qaida and the Islamic State group, he added.