VIDEO: California Officer Killed in Pursuit Crash
Bakersfield Police confirmed Friday morning that an officer involved in a pursuit that began shortly after 2:30 a.m. has died as a result of injuries suffered when his patrol car slammed into a wall, reports KBAK.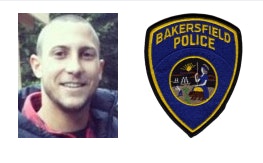 Two-year veteran officer David Nelson, 26, attempted to make a traffic stop at 2:37 a.m. Friday near the intersection of Flower and Miller Streets. Moments later, he radioed dispatch that he was in pursuit of a vehicle traveling north on Haley Street.
It was not long after that when other responding officers found Nelson's patrol car on fire, having crashed into a wall at Panorama and Mt. Vernon.
When officers arrived on scene, the patrol car was on fire with Officer Nelson still inside. The officers were able to remove Officer Nelson from the vehicle before the fire spread. Nelson was taken by ambulance to a hospital where he was pronounced dead at 3:05 am.
Police are now searching for the suspect involved in the pursuit.