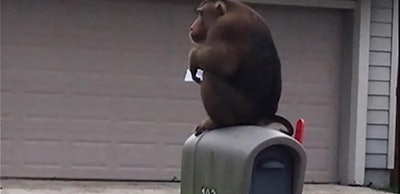 The Sanford (Fla.) Police Department will have to fix some of the damage to one of its patrol cars caused this morning by some monkey business.
A resident of Sanford called police shortly after 8 a.m. Monday to report there was a monkey eating their mail, police said.
The Sanford PD recounted the incident on its Facebook page, posting photos and video showing Zeek climbing on a traffic sign and then the police vehicle, ABC News reports.
"When we arrived to help the monkey, later identified as Zeek, decided to pull off molding from one of our patrol cars," the police department said in a post.