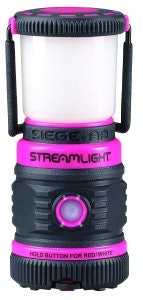 Streamlight Inc., manufacturer of high-performance lighting equipment, has introduced a pink version of its Siege AA ultra-compact lantern to commemorate Breast Cancer Awareness Month in October, an annual campaign to increase awareness of the disease. The new light is the latest in the company's line of "pink" flashlight products designed to raise money for the Breast Cancer Research Foundation (BCRF).
Streamlight will donate $2.00 from the purchase of each pink Siege AA to the BCRF. Including this year's contribution, the company has donated nearly $583,000 to date to the not-for-profit organization from sales proceeds of its existing pink flashlight products. The company offers pink versions of its Nano Light key chain light and ProTac HL and Strion LED tactical lights, each of which is imprinted with the BCRF logo.
For every pink light sold, Streamlight makes a donation ranging from $1 to $5 to BCRF, whose mission is to advance the world's most promising research to eradicate breast cancer in our lifetime.
"Breast cancer affects millions of women and their families, and Streamlight is proud to continue doing our part to help raise money for a cure for this devastating disease," said Loring Grove, Streamlight's Global Brand Manager, and a breast cancer survivor.
The cordless Siege AA lantern uses easily sourced AA alkaline batteries. It is ideal for a wide variety of applications, such as for family camping trips, during power outages, or for lighting up a dark path. Featuring one white and two red LEDs, it provides five output modes and has a glare-reducing globe cover that makes it comfortable to use in close quarters. With the cover removed, the lantern also can be used to illuminate large areas, either by standing it upright or hanging it upside down using the light's bottom D-ring. Run times range from 7 hours (white LED on High) to 12 days (Red SOS LED).
The BCRF Pink Siege AA has an MSRP of $52.44 and includes Streamlight's Limited Lifetime Warranty.
The Breast Cancer Research Foundation (BCRF) advances the world's most promising research to eradicate breast cancer. Founded by Evelyn H. Lauder in 1993, BCRF has raised more than $500 million to fuel discoveries in tumor biology, genetics, prevention, treatment, survivorship and metastasis, making it one of the largest non-governmental funders of breast cancer research in the world. For more information about BCRF, visit www.bcrf.org.
Based in Eagleville, Pa., Streamlight, Inc. has more than 40 years of experience making tough, durable, long-lasting flashlights designed to serve the specialized needs of professionals and consumers alike. Since 1973, the company has designed, manufactured and marketed high-performance flashlights, and today offers a broad array of lights, lanterns, weapon light/laser sighting devices, and scene lighting solutions for professional law enforcement, military, firefighting, industrial, automotive, and outdoor applications. Streamlight is an ISO 9001:2008 certified company. For additional information, please call 800-523-7488, visit www.streamlight.com, or connect on www.facebook.com/streamlight; www.twitter.com/Streamlight; and www.youtube.com/streamlighttv.