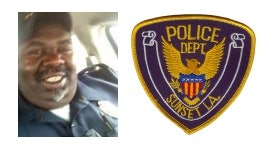 A police officer was shot and killed Wednesday when he responded to a call from a house where three women had been stabbed, one of them fatally, in a town about 60 miles west of Baton Rouge, said the sheriff of rural St. Landry Parish, reports the Associated Press.
The man accused in the attacks drove from the house in Sunset, a town of about 2,900, and into a convenience store about three blocks away, barricading himself in an office and telling police that he wouldn't come out and was ready to fight, St. Landry Parish Sheriff Bobby Guidroz said.
He said SWAT team members lobbed tear gas and "C-gas" into the building, then broke in using hammers and fire axes to arrest Harrison Lee Riley Jr., 35, of Arnaudville, about 8 miles from Sunset.
Guidroz identified the dead as Sunset PD Officer Henry Nelson, 51, and Shameka Johnson, 40. Johnson's sister Shurlay Johnson, 34, was in critical condition and Riley's wife, Courtney Jolivette Riley, whose age the sheriff didn't know, was in stable condition, he said. All three women were stabbed, he said.
Nelson apparently was killed with his own handgun, the sheriff said. Nelson and Riley were cousins, said Sunset Police Chief Luis Padilla.
Nelson is survived by his teenage daughter.