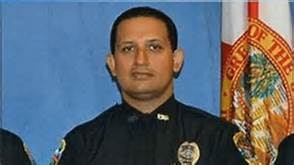 Palm Beach Gardens Officer Nouman Raja, who had been placed on paid administrative leave after the shooting death of a man near his broken-down vehicle on Interstate 95 in Florida, has been fired.
"The City of Palm Beach Gardens has been cautiously and methodically considering the employment status of Officer Nouman Raja. Therefore, Officer Raja, a probationary employee with the City, has been terminated from employment effective Wednesday, November 11, 2015 at 5:00 PM," a statement from the police department on Thursday read. "The independent criminal investigation into the Officer-Involved Shooting that occurred on October 18, 2015 is ongoing and the City will continue to cooperate with all agencies involved."
Corey Jones, 31, was shot to death in October by Raja, who stopped his unmarked van to check on what he thought was an abandoned vehicle and was "suddenly confronted by an armed subject," police chief Stephen Stepp has said.
Jones was a musician who performed with local bands and had just left a gig early Sunday when his car broke down. His family says he was legally armed to protect himself.
Raja fired six shots and hit Jones three times, family attorney Benjamin Crump told reporters previously.
Raja, 38, didn't have any disciplinary actions or complaints since joining the Palm Gardens force in April, according to records. He previously worked seven years at the Atlantis Police Department, another small city in Palm Beach County, CBS News reports.