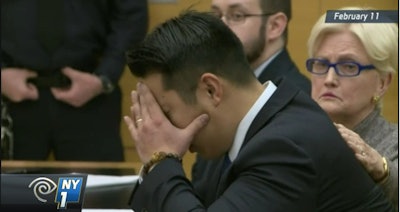 Brooklyn District Attorney Ken Thompson on Wednesday recommended that former NYPD Officer Peter Liang not be sentenced to prison for the fatal shooting of an unarmed man 16 months ago.
Thompson said "justice will be best served if Mr. Liang is sentenced to five years of probation, with the condition that he serves six months of home confinement with electric monitoring and performs 500 hours of community service."
A jury last month convicted Liang of manslaughter and official misconduct for killing Akai Gurley in an unlit stairwell of the Pink Houses public housing complex in East New York, Brooklyn.
Liang testified that as he entered the stairwell with his gun in one hand and a flashlight in the other, he was startled by a sound, he tensed up and his gun accidentally discharged. The bullet ricocheted off the wall and struck Gurley, who had just entered the stairwell one floor below, NY1 reports.