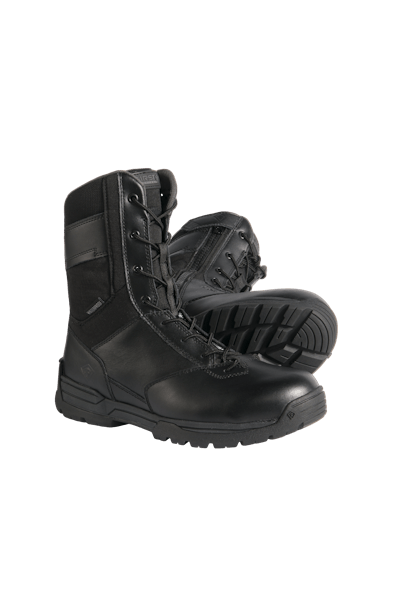 First Tactical's Waterproof Side Zip Duty Boot is designed to provide ideal comfort while keeping your feet warm and dry. It features lined leather, premium YKK side zipper, and 8-inch shaft for optimal support, as well as a waterproof, membrane-lined construction.
Like all First Tactical boots the Waterproof Side Zip Duty Boot comes with First Tactical's Heel Strike Window. The Heel Strike Window takes inspiration from running shoes, giving users more cushioning while reducing impact on the feet and body while in motion.
The 8" Waterproof Side Sip Duty Boots sell for $99.99 and are available for both men and women. Men's sizes range from 6 to 15 and come in wide and regular widths. Women's sizes range from 5 to 10 and are only available with regular widths at this time.
Headquartered in Modesto, CA, First Tactical makes functional gear created for professionals. Guided by the principles of innovation and reliability, First Tactical works firsthand with law enforcement, firefighters, and emergency medical personnel to create durable products that meet the needs of public safety. By working directly with real world users and utilizing expertise of high-quality professionals, all of First Tactical's products are put through demanding conditions to ensure they can reliably perform. Learn more about First Tactical's clothing, Advanced Women's Fit, outerwear, accessories, and what's to come at www.FirstTactical.com.