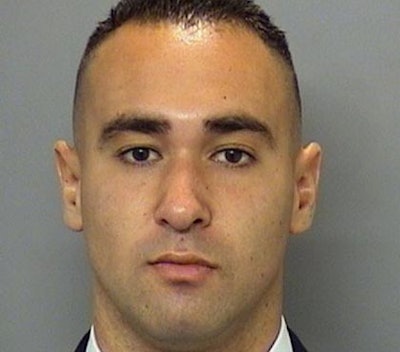 After 25 days in a hospital, San Diego police Officer Wade Irwin, who took a bullet to the neck in a shootout that left his partner dead, was greeted by fellow officers and taken home Saturday. When he arrived, his 19-month-old daughter raced across the lawn and into his open arms, reports the San Diego Union-Tribune.
Irwin, 32, underwent multiple surgeries, and spent most of his time in the intensive care unit, prompting his wife to take a leave of absence to be near him. The nine-year veteran will now continue his recovery at home. The officer's number one goal is to get back work, said family spokesman and Fraternal Order of Police Attorney Jim Cunningham.
"He is a very special person," Cunningham said. "This guy is one of the most courageous, steadfast peace officers I've ever met in my life."
Jesse Gomez, 53, is accused of shooting Irwin and his partner Officer Jonathan De Guzman, who was still in the patrol vehicle with his seatbelt on when he was killed. Irwin called for assistance, provided a description of the suspect, turned on his body camera, and shot at the suspect, all after being shot in the throat, Cunningham said.
Community members rallied around Irwin and his family in the wake of the shooting. Two fundraising pages to help support them have raised nearly $48,000.