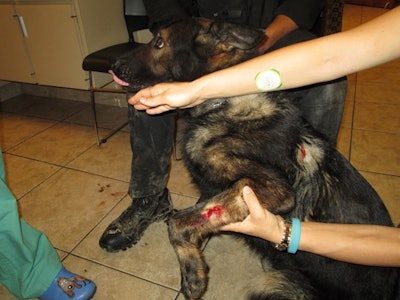 A man suspected of aggravated assault is being charged with stabbing a Lakeland (FL) Police Department K-9 while fleeing police.
Lakeland police responded to a report of an aggravated assault at the Crestwood Hotel Friday night. Upon arrival, officers interviewed a female victim, 24-year-old Raquel Rios, that had been strangled with a dog leash. The suspect, 42-year-old Reuben B. Smith, had already fled the scene in a vehicle headed to Hillsborough County, armed with a knife.
At approximately 3:00 a.m., Smith had returned to Lakeland and was spotted driving eastbound on George Jenkins Boulevard. After seeing officers, Smith sped off and a vehicle pursuit began. During the pursuit, Smith intentionally drove off the roadway on Swindell Road at the Interstate 4 overpass. He rammed the barrier fence attempting to drive onto the interstate but disabled his vehicle upon hitting the ditch. Smith then fled on foot, running eastbound along the shoulder of the interstate for several hundred yards before ducking into a wooded area.
Canine Officer Jeremy Williams and his K-9 partner Hyde responded to the area and began tracking Smith. Officer Williams briefly lost sight of Hyde in the wooded area and attempted to call him back, but Hyde did not return. Moments later Officer Williams found Smith holding the K-9 down. Hyde had been stabbed twice, once in the left front leg and once in the left side chest.
Both injuries required sutures but appeared to be non-life threatening. K-9 Hyde was released after treatment.
Smith continued resisting arrest, but was taken into custody.