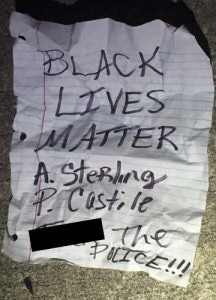 A Daytona Beach, FL, police patrol vehicle was found completely engulfed in flames early Sunday with a note reading "Black Lives Matter," authorities said.
Officers responded about 2:30 a.m. and found the marked cruiser on fire in front of the Islamic Center of Daytona Beach, where it was parked and being used as a "ghost car" to deter crime, officials said.
Fire crews responded and put the fire out. No one was reported injured in the incident, reports the Orlando Sentinel.
A note was found that read "Black Lives Matter. A. Sterling P. Castile. [Expletive] the police," authorities said in a news release. It's unclear exactly where the message was found.
Police Chief Mike Chitwood told The Daytona Beach News-Journal he believed the vehicle was firebombed with a Molotov cocktail, leaving more than $20,000 in damage.
Chitwood said it's unclear if the fire was caused by anti-police protesters, adding they have no suspects or persons of interest.